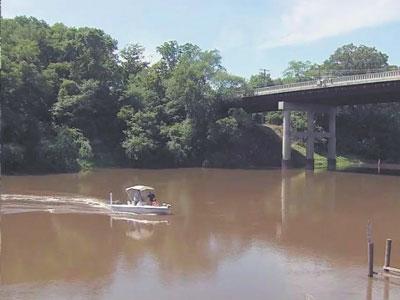 North Carolina environmental officials have received data from the first rounds of water sampling in the Cape Fear River to test for the unregulated chemical GenX. The N.C. Department of Environmental Quality received the first sets of water quality data from the Test America lab in Colorado for further analysis.
The data comes from water samples collected June 19-29 near the Fayetteville Chemours facility, which makes GenX, and from water treatment facilities in the Fayetteville and Wilmington areas.
The industrial chemical is produced at a plant just inside Bladen County from Cumberland County. DuPont began using the compound called GenX to produce many consumer products, including Teflon. Chemours, a DuPont subsidiary that makes GenX, insists it's safe, but it has been linked with cancer and other serious health problems. Little is known about the relatively new industrial chemical's health effects. There are no U.S. regulatory guideline levels for GenX.
Test samples first collected three years ago detected the chemical in the water supply for southeastern North Carolina at levels considered to pose a low risk to humans. Chemours said it would capture, remove and safely dispose of the wastewater that contains GenX from the Cape Fear River.
But the N.C. Department of Environmental Quality and the N.C. Department of Health and Human Services will continue to investigate the issue. Once the analyses are completed, both agencies will share the results and updated health risk assessments with the public. It will be of special interest in Wilmington, where some officials charge that the river water is contaminated.
Officials have collected water samples in 12 locations near Fayetteville and Wilmington and are wrapping up a fourth round of tests. A 13th location upstream of the Chemours facility — Fayetteville PWC's Hoffer Water Treatment Plant — was added to the sampling regimen. State officials will base future sampling decisions on the results. Separate samples were sent for analysis to two labs capable of detecting GenX at low concentrations: Test America and the EPA's lab in the Research Triangle Park. Both labs continue to receive and analyze data from the water samples collected and will make that data available to state officials during the coming days and weeks.
"Our goal is to make the public aware of our findings as soon as possible," said Michael Regan, secretary of the Department of Environmental Quality. "We will continue to report the results of the analyses in the coming days and weeks."
Health and Human Services Secretary Mandy Cohen said public health staff is working with the Environmental Protection Agency, the Centers for Disease Control and Prevention and academic researchers to better understand any possible health risks associated with GenX.
"There is limited information available … but we are working every day with our federal partners and academic researchers to better understand everything we can about this unregulated compound," Cohen said.