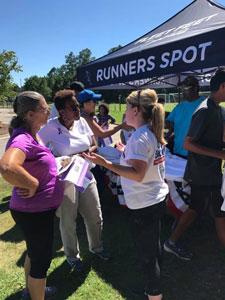 Domestic Violence Awareness month is October, but the sea of purple could almost make you forget it was only the end of July. On Sunday afternoon Fleet Feet Runner's Spot hosted a 5K fun run/walk to promote Domestic Violence Awareness. I don't know how many in all came out, but we had a 100 event T-shirts, and we ran out well before the end of the line checked-in. Sorry to the runners that didn't get a shirt, but I know that wasn't your motivation for coming anyway.
The Jordan Soccer Complex was the starting point for the runners, and the route was along the beautiful Cape Fear River Trail. I was amazed at the variety of people that showed up to participate. There were as many men as there were women. There were hard-core runners, others out for a brisk walk, young people, seniors and families. One young mom with a double baby-stroller came all the way from Wilmington. She mentioned the kids would sleep the two-hour ride home. I wondered how she'd be once they arrived. The kids would be refreshed and ready to make the most of the evening before bedtime, but her — probably not so much.
I also wondered what caused all of these people from different walks of life and stages of life to be there. Were there victims in the crowd? Probably so considering, statistically, in the U.S. a woman is beaten every nine seconds. As I had that sobering thought, in that instant, my heart hurt for the victims I was likely surrounded by, and then just as quickly my heart leapt realizing I was also likely surrounded by survivors, their supporters and advocates.
Aside from my speculation as to why some were present, there were others there with a clear purpose and message. The Fayetteville chapter of NOW, the National Organization for Women, set up a table and shared information. NOW combines the power of grass-roots activism with national lobbying and not by coincidence one of their official priorities is ending violence against women. The Care Center Family Violence Program was also represented.
The Care Center is a service of Cumberland County DSS Adult Services Division. The Care Center works to eliminate domestic violence by providing services to women, men and children involved in these situations. These services include a safe house, providing legal information, counseling and education to name a few. In case someone reading this needs to know, their Crisis line is (910) 6772532 and is available 24 hours a day.
I was there for both personal and professional reasons. Personally, I think every woman should be aware and prepared to help a sister or her family when in crisis. Professionally, I was there to talk about the role of the Clerk of Court in assisting victims of domestic violence. The Clerk's office is the portal for domestic violence victims to access the court to obtain a protective order. I'm running for Clerk of Court in 2018 and if elected, improving services provided by the Clerk's Domestic Violence office will be a priority. Let me be clear, I'm not talking about the staff; they are wonderful. I'm talking about the process. We can and should employ technology to allow victims to apply for protective orders from a safe remote location rather than going to the courthouse where their victimizer may very well be waiting. We can all image the worst-case scenario, but more often subtle acts of intimidation occur during the walk from the parking lot to the courthouse doors, discouraging victims from seeking the help they desperately need. Through technology, victims can meet with a judge from a safe place away from the courthouse. Additionally, protective orders should be electronically transmitted to law enforcement for service on the perpetrator, a much safer and faster process than victims walking a piece of paper across an open courtyard.
The 5K run/walk was a fun event for a serious matter. Thanks again to the organizers. Thanks also to all that came out, to all that help victims find a safe place, and those that work to stop domestic violence.