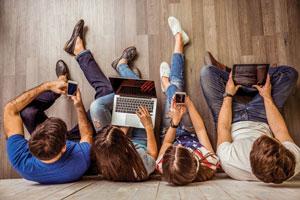 Problematic Internet Use exhibits symptoms and adverse effects similar to substance abuse disorders. It becomes an addiction when excessive internet use deeply impairs the user's life functioning, i.e., resulting in truancy, work absences, isolation from real-world socializing, and impaired interpersonal and familial relationships.
In the October 2009 issue of "Archives of Pediatrics & Adolescent Medicine," researchers reported that although depression, ADHD, social phobia and hostility were found to predict the occurrence of internet addiction, depression and social phobia predicted internet addiction among only female adolescents. Additionally, the most significant predictors of internet addiction in male and female adolescents were hostility and ADHD, respectively.
The article further explained that addiction to the internet can negatively impact school performance, family relationships and adolescents' emotional state. A plethora of research shows excessive use of internet and playing online games causes the release of dopamine neurotransmitters exacerbating the symptoms of ADHD.
New York psychotherapist Nancy Colier observes in her enlightening new book, "The Power of Off," that "we are spending far too much of our time doing things that don't matter to us." Collier urges her readers to start practicing mindfulness by simply noticing the impulse to get on technology and then pausing in the desire to use the technology. She suggests learning to tolerate your feelings of craving, staying conscious and still, allowing it without reacting and without giving in to what your mind is telling you to do to satisfy the craving.
Colier's approach is akin to a modern psychotherapy mechanism known as mindfulness-based cognitive therapy, which originated from Buddhist spiritual practices. In his transcendent state, Buddha recognized that craving and clinging were temporary states that endlessly entail suffering. He taught his followers to attain true peace of mind, happiness and contentment by living a healthy lifestyle of moderation and balance. He taught this could only be achieved by taking the Middle Path or Middle Way; that is, avoiding two extremes — indulgence and self-deprivation — that lead to endless suffering. In addition to her 30-day digital detox guide, Colier outlines three small steps you can take now to curb your digital dependence.
1. Identify how much digital use is necessary.
2. Make little changes. Add one thing a day that's done without the phone.
3. Devote more time and attention to things that nourish you.
Take the Middle Path to liberation, peace, power and confidence; to empower yourself to trust yourself, to control your behavior, and thus ultimately to take care of yourself and your relationships.