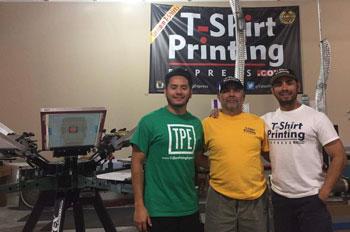 Luis Cordova and his family took a leap of faith in 2014 and opened a small printing business in Hope Mills off Highway 301. It's not your ordinary print shop. When one walks in, he or she automatically notices the relaxed, down-to-earth atmosphere. The Cordovas believe in building relationships and helping the customer feel at ease throughout the process. With pictures of Paris and Venice lining the walls of a small sitting area, T-Shirt Printing Express allows for relaxation while you wait.
"I mainly grew up in Bladen County," Cordova said. "(I) went to West Bladen. My brother began working in a print shop in Elizabethtown, and he was really good at it."
His older brother, Otto, is the second of three brothers who own the business. He, along with Luis and their older brother Jose, meticulously manage every detail to make sure customers receive exactly what they ordered. Otto runs the press and designs the graphics while Luis and Jose answer the phone calls and emails for orders. However, each brother is trained to do all the tasks. Jose is stationed in Kentucky with his wife who is in the Army. He works every day, answering calls and emails from customers, new or existing. Each brother is dedicated to helping one another and the business to grow.
Worldwide
"I see us growing to the point to where we have to get a bigger building," Luis said. "But I know that will take time. Our biggest client is the military. But we do a lot for businesses around Cumberland County."
The brothers also service places in Japan and the U.S. military in Afghanistan and Iraq. "Our name is being seen across the globe," Luis said.
Process to Perfection
"We don't just print T-shirts; we do promotional and business items as well," Luis said. The shop prints pens, koozies, banners, tents and more.
It all begins with a request from a client. The process can take anywhere from two to five hours from beginning to end. The turn-around time is a week or less, depending on product and quantity.
Family Ties
Felix Cordova is the kind and humble patriarch of the family. An immigrant from Guatemala, he moved to Connecticut along with Otto in the early 2000s while his wife, Carmen, stayed behind and took care of Luis and Jose.
Because of living expenses in the north, Felix decided to relocate to Bladen County. Once settled, he moved his wife and other two boys to North Carolina. Because of the long drive from Bladen County and back every day after the shop opened, the family decided to move to Cumberland County.
"It was too much money for gas and too much time wasted in cars," Luis explained.
Felix is retired now and helps by folding shirts and doing other light activities around the shop.
"My dad worked hard all his life. He raised us, and he deserves to relax and enjoy his retirement," Luis said. "We even hung a hammock back there for him."
"Mama Carmen," the loving matriarch of the family, cooks every day for her husband and boys.
"We never have to eat out," Luis said. "She makes sure we are fed. She cooks it and brings it to us every day."
In return, the sons look after Mrs. Cordova by helping with house repairs and other things requested.
The family is close and takes care of one another. This carries through in their business with the quality of service, warmth and professionalism.
PHOTO: Luis, Felix and Otto Cordova