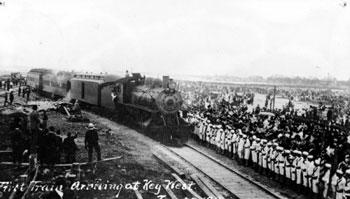 Why did the powerful Hurricane Irma get me thinking about the football stadium at the University of North Carolina at Chapel Hill?
Think Kenan Memorial Stadium where the Tar Heels play football and Kenan-Flagler, the name of UNC's business school. What did these names have to do with the hurricane that attacked the Florida Keys on Sept. 10?
Folks in Florida are surrounded by the Flagler name. It's on streets, statues, colleges, museums, counties — it seems to be everywhere. All these Flagler connections honor the legendary Henry Flagler. At the turn of the last century, he transformed Florida's East Coast from inaccessible swampland to the home of resorts, including those he built at St. Augustine, Palm Beach and Miami by extending the Florida East Coast Railroad from Jacksonville to Miami.
According to Lee Standiford's 2002 book, "Last Train to Paradise: Henry Flagler and the Spectacular Rise and Fall of the Railroad That Crossed an Ocean," Flagler paid for this progress from the wealth he earned as John D. Rockefeller's partner in Standard Oil Trust.
He might have been satisfied with his achievements at Standard Oil. But he wasn't. He might have been satisfied with the Jacksonville-Miami connection of his railroad. But he wasn't. He dreamed of connecting Key West to the mainland more than 100 miles across the narrow islands of the Florida Keys and the open ocean that surrounded them. Flagler believed that the Panama Canal, when completed, would make a mainland-connected Key West into a perfect port location to serve the shipping needs of the entire Caribbean.
In 1905, the Florida legislature granted him approval to construct a railroad to Key West. However, Flagler's dream was an engineer's nightmare — an impossibility, according to almost everybody but Flagler.
When Flagler told his friend George Ward, a Presbyterian minister and president of Rollins College, of his plan, Ward said simply, "Flagler, you need a guardian."
Other skeptics referred to the Key West project as "Flagler's Folly."
But construction began in 1905, overcoming obstacles in the swampland south of Miami and then along the narrow keys and over deep ocean waters. Battling hurricanes, mosquitoes, illnesses and labor problems, in addition to the "impossible" engineering challenges, the project came to completion in January 1912, forging an approximately 350-mile route from Jacksonville all the way to Key West.
When the first train arrived in Key West, the 82-year-old Flagler was aboard. Newspaper headlines proclaimed the completed project "the eighth wonder of the world."
Flagler died the next year, but his Key West connection dream had been fulfilled.
At his death he left more than $100 million to North Carolinian Mary Lily Kenan, his third wife, whom he married in 1901. At her death, she left much of that fortune to her siblings, including brother William R. Kenan Jr. and several sisters. The siblings have been generous to the University of North Carolina. William Kenan provided the initial funds for Kenan Memorial Stadium. He, the trust he established and other Kenan relatives have funded professorships, buildings and other projects at UNC and other universities as well as other worthwhile projects in North Carolina and throughout the country.
On Labor Day in 1935, a devastating hurricane even stronger than Irma passed over the Florida Keys and demolished Flagler's Key West dream. It caused great destruction and permanently severed the rail line, thereby destroying Flagler's eighth wonder of the world.
Whenever a mighty hurricane passes near Key West, this North Carolinian remembers Flagler and his close and continuing connection to good projects in North Carolina. This writer joins others in mourning nature's destruction of Flagler's greatest triumph.
Photo caption: When the first train arrived in Key West, the 82-year-old Flagler was aboard. Photo credit: flaglermuseum.us