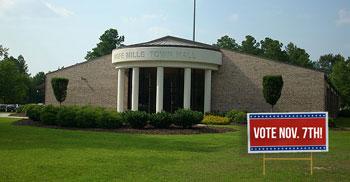 If the town of Hope Mills were a new Wall Street stock offering, I would add it to my financial portfolio. Why? Because it has all the right indicators for growth and prosperity based on its leadership, management, policies and services. The previously small, sleepy mill town of Hope Mills is neither small nor sleepy any longer. With a population of nearly 17,000, growth and development are both evident and inevitable. During the last several years, the population has grown, schools have expanded, and more property is being designated for professional and commercial use. Yes, economic growth and development are inevitable.
The leadership of Hope Mills has faced many challenges in recent years. Constructing the dam and restoring the town's signature lake after a 10-year hiatus has presented multiple herculean challenges. Yet, Hope Mills elected officials and town staff have risen to the occasion through perseverance, dedication, hard work and love for their community. The future of Hope Mills looks bright.
Hope Mills residents need to keep a good thing going. Next Tuesday, when the polls open on Election Day, they need to get out and vote for the candidates they feel will help the town to grow and prosper and take its rightful place in the 21st century. Hope Mills leadership can no longer afford to spend its time dealing with whispers, gossip and innuendo – all of which serve as a distraction and stifle progress. Distractions that stifle progress and waste time. Time that could be spent expanding town services, promoting local businesses, attracting economic development and providing amenities to residents.
It is unfortunate not much attention or publicity has been given to the upcoming Hope Mills mayoral race or commissioners race. Fayetteville's municipal election has cast a shadow over all the other countywide races. And, until recently, Hope Mills residents did not have consistent and reliable access to information about the candidates or important issues concerning the town. In the Hope Mills section of this week's issue, Rod MacLean, a popular Hope Mills resident and community activist, writes about the value and importance of voter turnout in the upcoming Hope Mills election. Informed voters will elect, and re-elect, those people who have a positive vision for Hope Mills growth and prosperity.
Up & Coming Weekly is looking forward to being Hope Mills' community newspaper. We want to tell the Hope Mills story, keep the residents informed of important issues and developments and introduce candidates and future leaders to the community. Also, we are looking forward to being Hope Mills' positive voice to the other 300,000 residents of Cumberland County. There is no doubt Hope Mills will become one of our area's "must-see" destinations.
Thank you for reading Up & Coming Weekly, Hope Mills' community newspaper.