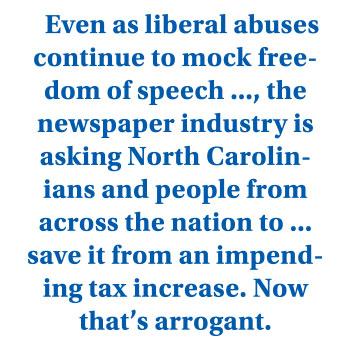 The past decade has been a difficult one for daily and weekly newspapers and print news media in general. Financial stability has been a challenge as the industry gradually leaves the world of printed news on paper and transitions to the new, less dependable and everchanging world of the internet and social media. I'm not worried, though. There is still a valuable and relevant market and community interest for locally printed newspapers – especially for weekly community newspapers like Up & Coming Weekly.
However, today, there is a new breed of newspaper publishers, and, I use the term "publisher" loosely since many of the legitimate, honorable and traditional newspaper publishers are being replaced with corporate bean-counters and caretakers. They have little knowledge of the communities they serve, nor is there any interest in getting involved with the local missions and mandates that factor into having clear communication and a good quality of life within a community. With this being said, you can bet they have little knowledge of the newspaper industry let alone a clear understanding of what the Fourth Estate – the press, which is not officially recognized as part of the political system but wields a significant influence – contributes to society. No wonder there is such apparent public apathy toward any plight the newspaper industry may have. And it does have a plight.
Currently, national leaders in Washington, D.C., have been entertaining a proposal they feel is critically important to protect and shore up the operations of one West Coast domestic paper-producing company rather than being guardians of the national free press, the stalwart foundation of the Fourth Estate.
Daily and weekly newspapers across North Carolina (and the nation) are speaking out in an organized and collective voice, demanding that legislative delegations in Washington reject the idea of imposing tariffs on imported Canadian newsprint (uncoated groundwood). This is the type paper that many U.S. publishing companies use daily.
The movement is being spearheaded by large conglomerate newspaper chains and by state and national newspaper associations that say these proposed tariffs on Canadian paper could vary from 6 to 10 percent. This would increase U.S. newspaper companies' costs of doing business and decay bottom-line profits. According to newspaper industry leaders, such an action by the Department of Commerce would create overall higher domestic newsprint pricing that would end up being passed on to the consumer while creating a financial burden on all newspaper companies across the state and country.
I agree that on the surface, protecting a national industry may look like the correct thing to do. But as The Fayetteville Observer pointed out in its Friday, Jan. 12, editorial "A newsprint tariff's unintended consequences," this kind of protectionism could have devastating consequences to the already-struggling newspaper industry – including Up & Coming Weekly.
Well, as the title of this editorial reflects: Cry me a river!
Honestly, who cares what happens to the daily newspaper industry? After all, we have the internet. What's laughable is how the newspaper industry is claiming the viability and importance of daily and weekly newspapers as a local community medium while declaring such a tariff would hurt American businesses by increasing operating costs and reducing profitability, which would eventually lead to the loss of thousands of jobs in the newspaper industry.
Well, during the last 18 months here in Fayetteville, we lost plenty of newspaper jobs, and it had nothing to do with the price of newsprint. Even more laughable is the arrogant self-perception that the news industry cares about the communities it serves. Here is a quote from The Fayetteville Observer's editorial:
"We are at an important juncture right now, and our role of getting real news to you on a daily or weekly basis matters more than ever. A credible news source that has a vested interest in communitybased news and information is one of our bedrock principles as a free nation." They are talking about themselves. They go on, claiming that "Readers rely on newspapers to provide credible information about what matters most to them – news about local people, local government, local happenings, local businesses and important public notices that can impact a community." Again, really? Are they talking about our daily newspaper?
I find it ironic that newspapers and newspaper-related associations have found it so convenient to, blatantly and without shame, violate the spirit of the Fourth Estate by publishing products with persistent politically leaning bias. And they do it with a mean-spirited penchant for sensationalizing fake news and half-truths while fostering ongoing and unfounded negative and disrespectful attacks on the office of the president of the United States. This injustice is as blatant as the disrespect many newspapers have for Americans who don't agree with their opinions and ideology.
How ironic is it that now the mighty, arrogant liberal press is seeing its oncerespected bully pulpit reduced to an insignificant stub? Even as liberal abuses continue to mock freedom of speech and other constitutional freedoms, the newspaper industry is asking North Carolinians and people from across the nation to step up, exert our influence and invest our political capital to save it from an impending tax increase. Now that's arrogant.
They want those of us who they have continuously attacked and offended to speak out on their behalf by contacting the U.S. Department of Commerce, the offices of Sens. Burr and Tillis and anyone else who will listen to oppose this proposed Canadian newsprint tariff. Honestly, why would we do that? So the newspaper industry can continue to assault our senses, make a mockery of the U.S. Constitution and spew the same disrespectful and biased reporting? I don't think so. I'm not going to second-guess our congressional leaders; don't be surprised if this falls on deaf ears. After all, this request is like asking the hangman for a new rope. Good luck.
I do agree with The Fayetteville Observer on this point, though: "A free press is more important than ever, and newspapers have always been at the forefront of serving our communities. We remain steadfast in our commitment to continue doing so." Yep. This is what we do.
I'll accept the price increase and make it work. After all, that's been a 22-year tradition. Thanks for reading Up & Coming Weekly.