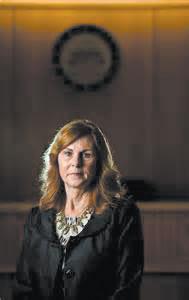 The town of Hope Mills is heading into the new year enjoying a continuing pattern of growth. Melissa Adams says the challenge of the year ahead is growth management. Adams is Hope Mills' new town manager. She's a native of neighboring Moore County and has 27 years of experience in municipal administration.
Adams came to Hope Mills from Carthage as town clerk in 2011. A year ago, she became Hope Mills' interim manager, succeeding John Ellis, who resigned. In March of 2017, she was promoted to town manager by the board of commissioners and was salaried at $92,000 a year. It's her first job as a municipal manager, responsible for a town government of 150 employees and a population on the verge of 17,000 residents.
Given her experience, Adams was well aware that the average term of service of small-town administrators is about three years. She said it was a concern when she considered whether to accept the job offer, but, "I felt like I was ready for more."
She added that she feels she's more than proven herself since becoming town manager.
Perhaps her greatest achievement thus far is helping to fix what she called "the broken relationship between the town and chamber of commerce." Adams believes both agencies are now working in harmony for the good of the community.
The town's centerpiece, Hope Mills Lake, is ready to be impounded now that the dam has been rebuilt. The 121-acre lake is fed by natural streams and contained by the new $9.6 million dam. Adams said she hopes the lake can be opened to the public this summer. A new ordinance will allow swimming and "no wake boating." Water skiing and speed boating won't be allowed. Town officials are excited about developing a lakeside boardwalk, a new dock and a pier. Adams said regulatory procedures are the final hurdle and that town government is trying to clarify and pay various fees that are still pending so the state will issue a final permit.
Adams believes growth management will be the key to better government in the new year. "I'm excited about the year ahead," she said. She intends to continue holding citizens academies twice a year to better educate the people on the operation of local government. She said she is dedicated to transparency in government.
"We have definitely reduced the number of closed sessions," she said. Adams said she wants to develop closer working relationships with the city of Fayetteville and the Public Works Commission. Town government is collaborating with the local economic development corporation to determine the kinds of growth needed in Hope Mills.
She hopes to address how the town will develop the former golf course on Golfview Drive, which is owned by the town. Other projects include a museum on Trade Street, and traffic congestion must be dealt with.
Adams said the main streets in town are designated state roads, which means they are governed and maintained by the North Carolina Department of Transportation. Adams was quick to point out that the new traffic median along Main Street was DOT's doing, not the town's. The state has been constructing roadway medians on major arteries across Cumberland County, insisting that they reduce accidents. Adams said congestion management is the state's responsibility and that DOT must work with the town to relieve gridlock. It's at its worst when school buses clog the streets and during rush hours.
The Hope Mills Board of Commissioners holds its 2018 planning retreat Saturday, March 2, at Camp Rockfish.
Photo: Melissa Adams, Hope Mills town manager