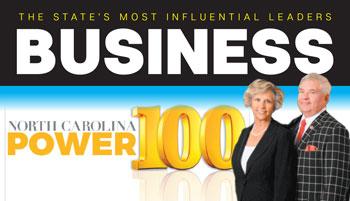 Business North Carolina Magazine is a highly respected statewide business publication that reflects on the elements of North Carolina business and industry. It reports on the economic health and virtues of our state and how these factors affect North Carolina growth, businesses and industry. In the February edition, the magazine profiled and honored the 100 most accomplished, talented and successful business people in North Carolina. All are successful in their own right and have contributed to North Carolina's economic well-being and residents' quality of life.
The publication noted that many talented business leaders are concentrated in larger metropolitan areas of our state. However, for this feature, it focused on the smaller communities and regions in search of successful business leaders making significant and dynamic contributions to their communities in economic development, finance, retail and several other industries. The contributions of these accomplished people significantly influenced and changed their communities in a positive way.
Reading over the list, the one trait they all have in common is vision. In the case of Ralph and Linda Huff of H&H Homes, you could say "double vision," since both have contributed so much to our community. Ralph absolutely earned his designation as one of North Carolina's 100 most influential business leaders by this distinguished publication. He and his wife Linda are two of Fayetteville's most successful business and economic assets.
They love this community, as witnessed by their generous lifelong contributions of time, talent and finances. This is a huge honor and a big surprise for the Huffs, but it should be no surprise to everyone around them. In fact, we need to pay more attention to local leaders like Ralph and Linda. Not only are they successful, but they also have a vested interest in the success and prosperity of our community. Outsiders do not.
History has shown that our community puts way too much faith in the opinions and guidance of outsiders rather than listening to the common-sense rationale of successful local people and business owners. Case in point: Look how we have struggled with the Unified Development Ordinance over the years. There is no telling how much this community has lost in time, money and business because we refuse to listen to and acknowledge the advice of successful people and local business owners most affected – people who are vested in the community. People like Ralph and Linda Huff, Mac Healy, Jay Wyatt, Mary Lynn Bryan, Don Price, Richard Bryant, Joe Riddle and Sharlene Riddle Williams, and Ron Matthews.
I could list dozens more entrepreneurs and innovators who have invested in this community. We could easily publish our own "100 Top Successful and Influential People in Business" just for Fayetteville and Cumberland County, but would the powers that be use them as a resource?
It has been said many times that "Fayetteville never misses an opportunity to miss an opportunity," and we have much at stake.
Fayetteville and Cumberland County are at a turning point. Our future looks bright. Fort Bragg is stable and growing. We have tens of millions of dollars in new downtown development promising to generate tens of millions more. We have strong, talented leadership promoting economic development, and, thanks to last year's $35 million Parks and Recreation bond, our children, seniors and entire community are experiencing more enhanced quality of life venues.
Some questions do remain.
1. Can we get out of our own way to embrace prosperity?
2. Will the city of Fayetteville and Cumberland County leadership commit to serving their taxpaying constituents rather than themselves?
3. Will the city of Fayetteville and Cumberland County leadership curtail their pettiness and limit political posturing long enough to envision the impact a North Carolina Civil War and Reconstruction History Center would have on our entire community and humanity?
We'll see. Stay tuned.
Ralph Huff recently sent a letter to all the members of city council advocating for the history center and encouraging them to continue their unwavering support. Why? Because he has vision.
Congratulations, Ralph. Your inclusion as one of our state's most influential citizens is most deserving. You and Linda have again put Fayetteville and Cumberland County in the limelight – and, in a good way!
Visit http://businessnc.com/wpcontent/ uploads/2018/01/power-100_ feb18_lr.pdf to read the February edition of Business North Carolina Magazine.
Thanks for reading Up & Coming Weekly.
Photo: Linda and Ralph Huff