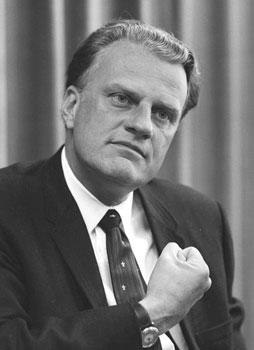 Countless people have watched Billy Graham crusades on television or had the opportunity to sit in the audience to hear him preach, but how many people attended a worship service with him?
I did.
It was in the late 1970s when I traveled to the tiny North Carolina mountain town of Montreat. It's home to a small college and a beautiful retreat of the Presbyterian Church nestled in the hills near Black Mountain.
It's also the home of Dr. Graham, and the place where he passed away last Wednesday morning at the age of 99.
We were there to attend a conference hosted by Christian Books Unlimited. A feature of the conference was nightly revival-style worship services with a variety of speakers.
One evening as I sat with my parents in Anderson Auditorium, one of the conference spokesmen approached the microphone and said, "We are pleased to have Dr. Billy Graham in attendance with us tonight.''
Necks craned and heads turned and, sure enough, several pews back behind the last occupied row of congregants was that familiar face and full shock of hair seated alone, watching.
He anticipated what would happen at the end of the service, quietly exiting during the singing of the last hymn and shaking the hand of an usher as he departed the building.
That was my closest brush with the greatest evangelist of our time, but my father, Rev. Earl Vaughan Sr., had an even closer one some years earlier.
He was also in Montreat for a religious conference with some friends and was invited to the home of Dr. L. Nelson Bell.
Bell was the father of Graham's wife, Ruth Bell Graham. Bell and his wife had served as missionaries to China for years before retiring to Montreat.
While my dad was visiting Bell's home, Graham happened to show up at the same time.
"He shook hands with all of us, greeted all of us individually,'' my father said. "He was very cordial, very gracious and kind to us. We got the chance to talk with him briefly.''
In 1974, while serving a pastorate in Leland, Woodburn Presbyterian Church, dad was invited to serve as a counselor at the Billy Graham Crusade in Norfolk, Virginia. It was the 225th of Graham's 417 crusades, the last one taking place in New York in 2005.
The atmosphere at the crusade was far different from the one in Bell's home. Dad didn't get to interact personally with Graham during the conference. Dad was one of a large number of ministers invited to meet and counsel with people who came up at the end of each crusade meeting when Graham made his call for those attending to accept Jesus Christ as their savior.
"It was very uplifting,'' my father said of the crusade experience. "We were facing him directly and we could see around the whole auditorium, people in the choir behind Billy singing.''
There have been evangelists before and since Graham, but none have had the same reach, nor the same impact on so many people over so many generations.
My father thinks there are several reasons for that.
"He was so approachable to start with, so genuine, and he could talk to any person,'' my father said. "He could make that person feel loved and wanted by Jesus Christ. It was just a really, really spiritually filled atmosphere around him.''
At the same time, my father said, Dr. Graham never put on airs. "He was appreciative of everything that was done for him and the attention paid to him,'' dad said. "He was such a really down-to-earth person compared to other television evangelists and others I've seen.''
Possibly that was because of his humble beginnings, working on a dairy farm, honing his preaching skills by standing on a stump and sharing the gospel with the creatures of the woodlands.
"He had humble beginnings and he wasn't ashamed of that,'' my father said. "He let that be known, where he came from.
"He was grateful to be God's servant, wherever God could use him."
Photo: Billy Graham