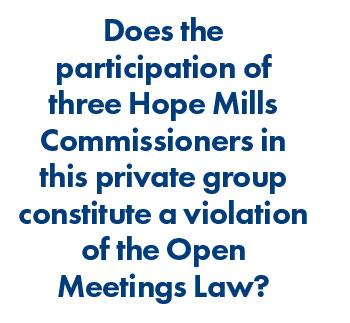 Hope Mills Mayor Pro Tem Mike Mitchell is concerned about questionable social media practices that are starting to manifest and possibly have a detrimental effect on the town. These concerns have appeared because of the proliferation of a private Facebook group, the Hope Mills Chatter, which only accepts privileged members who are scrutinized, vetted and pre-approved by the group manager, Lisa Carter-Waring. Normally, this would not be an issue – except some residents have complained that the site is discriminatory and is being used as a political lobbying vessel to bully, intimidate and unduly influence town commissioners. Residents have complained they have been blocked from accessing the Hope Mills Chatter. Some who have been approved for participation have been abruptly terminated and kicked out of the group when disagreeing with Carter-Waring's dogma or objecting to the mission or mandate du jour.
This private social media group includes three prominent Hope Mills commissioners: Meg Larson, Jesse Bellflowers and Jerry Legge.
Some residents suspect the site is being used as a three-to-two conspiracy to control the business and policies of the town. Three out of five town commissioners meeting together equals a quorum. Mayor Jackie Warner is also a member of this group but has no vote. If the three town commissioners constitute a quorum, their participation in the Hope Mills Chatter may be a violation of the North Carolina Open Meetings Law. This is why Commissioner Mitchell is looking into the matter. In the end, their participation may not be illegal, but appearances matter, and the appearance of impropriety is definitely an issue here.
Mitchell launched an informal poll on Facebook recently to see how the residents of Hope Mills feel about it; 76 percent of the respondents said they had concerns with elected town commissioners participating in a private and restricted Facebook group.
Mitchell said, "I personally believe that public appearance is very important, and when the three commissioners that participate in Hope Mills Chatter (a closed Facebook group with less than 300 members) vote three to two to take actions, citizens might wonder how much of the decision was previously discussed in the closed group." His point is well-made.
Up & Coming Weekly has requested a formal opinion from Amanda Martin, attorney for the North Carolina Press Association, concerning the possible violation of the Open Meetings Law. We explained to Martin that the Hope Mills Chatter was only accessible to a select group of people vetted and approved by the page moderator, Carter-Waring, and that it includes three sitting commissioners. We also pointed out that Carter-Waring is a paid correspondent for the weekly Hope Mills newspaper, The Sandspur, which is owned and produced by The Fayetteville Observer.
I suspect Carter-Waring and Larson are using the Hope Mills Chatter and Carter-Waring's position with The Sandspur to gain and maintain political influence, dictate the commissioners' agenda and control the overall narrative of the town of Hope Mills.
Another indicator of this conspiracy was Carter-Waring's and Lawson's organized attempt to discredit Up & Coming Weekly's partnership with the town. Carter-Waring blocked our access to the Hope Mills Chatter while allowing other local news media access, including four reporters from The Fayetteville Observer, Greg Barnes (WTVD), Goldy (WFNC) and Gilbert Baez (WRAL). While the content and comments in the chat area are private, the membership list is public, and I have confirmed the information about who has access to the group.
We applaud Mitchell's initiative. This is not and never has been what Hope Mills is about. Adversity and challenges over the last decade have proven the trust, ability, judgement and mettle of leaders like Warner, Mitchell, Pat Edwards, Melissa Adams, Drew Holland, Bob Gorman, who died this November, and dozens of other dedicated employees who know and understand the future challenges that Hope Mills faces.
We are proud to serve Hope Mills. The town has publicly endorsed and recognized Up & Coming Weekly as its official community publication. Why? Because of our 23-year history of quality, fair and accurate community news coverage across Cumberland County.
Hope Mills wanted a valuable, long-term marketing strategy for the enhancement of quality of life and the growth of local businesses and solid long-term economic development. That's why they partnered withus. That decision was overturned by the Chatter crew, Lawson, and Carter-Waring.
In a blatant move to discredit us and stymie our style of positive local news coverage in Hope Mills, Carter-Waring uninvited us from the chat room and ultimately blocked us from the page. She has refused to respond to our inquiries or provide an explanation as to why our newspaper is excluded while she allows other all other media to participate.
Many advocates for Up & Coming Weekly have since been involuntarily extricated from the group. However, this is not the main concern. The main concern is if the presence and participation of three Hope Mills Commissioners in this private chat group constitute a violation of the Open Meetings Law. Or, at the very least, is this practice ethically questionable and something that should be discouraged and addressed by the commissioners? We'll see how this plays out.
Our newspaper has gained the trust of dozens of nonprofit organizations and hundreds of businesses, civic organizations and government entities. The Hope Mills Chatter, Carter-Waring and Lawson undid a solid, well-thought-out media program for their personal gain and undermined the work of Warner, Edwards, Gorman and Adams.
I don't know where this social media controversy will end, but, I do know it is not good for the future of Hope Mills. Again, kudos to Mitchell for broaching the subject. In the meantime, we will continue to promote and develop the Hope Mills Initiative by spreading the good news about Hope Mills throughout all of Cumberland County and Fort Bragg – just as the previous leadership intended.
Respectfully, Carter-Waring and her few chattering Sandspur followers pale in comparison to the bold and aggressive positive message that we and the Hope Mills leadership intend for its residents and visitors. Hope Mills is becoming prominent and respected throughout the county. The town of Hope Mills needs to protect itself from non-visionaries and small thinkers.
Whether Up & Coming Weekly continues to be the official media voice of Hope Mills or not will be determined by the town's people. Carter-Waring and Larson do not want the town to have another media voice. They do not share the vision for growth and economic prosperity of Hope Mills. They want things to stay the same. No vision, no progress, no growth, no competition, and certainly no Up & Coming Weekly!
Mike Mitchell, stay the course. Transparency is vital to free and open government. Demand public input. Demand to hear all residents of Hope Mills – not just a select few.
Readers, we would love to hear from you. Send your thoughts and comments to hopemills@upandcomingweekly.com.