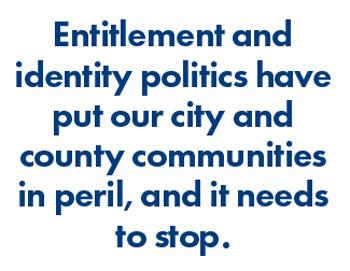 WIDU radio personality and Fayetteville Observer columnist Troy Williams and I have journalistically crossed swords several times when it comes to perspectives on issues concerning the Fayetteville/Cumberland County community. This is not a bad thing. I respect Williams and consider what we do the pure essence of free expression. The free press accentuates the American privilege of free speech.
Williams' article in last Saturday's Fayetteville Observer, titled "Council does the right thing with Culliton pick," was perceptive in identifying and acknowledging those people who want to use local government for their personal enrichment and political gain. Williams has put the Cumberland County Democratic Party and Fayetteville City Council on notice that identity politics comes
up short on substance when talent, qualifications and capabilities are ignored.
The city voted 6-3 to replace District 2 Councilman Tyrone Williams, who resigned after the controversy relating to him requesting $15,000 from a downtown contractor, with Cumberland County Republican Dan Culliton, a white man, over Democrat Patricia Bradley. Bradley is an African-American woman currently employed by Fayetteville State University. She previously served as assistant city attorney and was assigned to the Fayetteville Police Department during the city's "driving while black" racial profiling controversy.
Bradley was no doubt the darling of local Cumberland County Democrats. Despite an aggressive Democratic campaign and political pressure from some of the sitting council members, common sense won out. Despite the pressure and a barrage of criticism from local Democrats, Councilwoman Tisha Waddell and senior council member Bill Crisp held their ground and stood on principle, joining their council contemporaries in voting for what was in the best interest of District 2 and the entire Fayetteville community. For this, they should be applauded and admired.
To quote Williams' Observer article, "common sense and decency prevailed."
He said something else in his article that struck a sensitive but relevant note with me. He wrote, "Without a doubt, a good government ought to be colorblind."
That statement reminded me of something William T. Brown once said. Brown was a Fayetteville educator and principal during the years of desegregation in the schools and later a trustee at Fayetteville State University. In a discussion with Brown about the need to encourage and promote greater racial harmony within our community, I suggested that people needed to be more open, more tolerant and colorblind. Brown smiled as he corrected me: "Not colorblind, Bill; people need to be color intelligent."
His point was that we always want to recognize and respect nationality and diversity, but character is what defines a person – and everyone needs to recognize this. Intelligence and character are what made Brown an exceptional educational icon and community leader. He was principal of E.E. Smith High School the first year that white students began attending historically black high schools in Cumberland County. To Brown's way of thinking, intelligence, common sense, hard work and achievement were the keys to success. My conversation with him was more than two decades ago, and I have never forgotten those words.
Entitlement and identity politics have put our city and county communities in peril, and it needs to stop.
Local Democrats, many in the black community, are angry and disgusted with Tisha Waddell and Bill Crisp because Waddell and Crisp are independent thinkers with principles and integrity. They refused to be intimidated or bought off or have their core values compromised.
The recent 6-3 vote that chose Culliton over Bradley was a mandate and somewhat of a godsend at the same time. Bradley, after Culliton's appointment, referred to Fayetteville City Council as "a den of wolves and thieves" in a Facebook post. Really? This begs the questions: What was the real intention and motivation for getting Bradley elected? And, who is masterminding this league of helpless and hapless lemmings? It will be apparent soon.
Honesty and integrity will win out when initiatives like this run out of strategy or logic or both. One thing is for sure, the 6-3 vote of the council for Dan Culliton has sent a resounding message. More and more people are beginning to connect the dots. Once the dots are connected, the only message that will be tolerated and acceptable to the citizens of Fayetteville will be the one that reads: "Fayetteville First!"
Now, that's color intelligent! Thank you, W.T. Brown.
Thanks for reading Up & Coming Weekly.