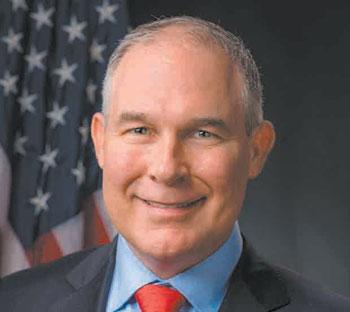 Come, let us now praise famous Environmental Protection Agency administrators. Who's the leader of the club that's made for you and me? None other than America's most fearless and quirkiest Protector of the Environment. Ladies and gentlemen, I give you Scott Pruitt. And as the emcee almost said in "Cabaret," "When you are finished with him, you don't have to bring him back." He is nonrecyclable. Unless you have been living under the lava at Leilani Estates in Hawaii, our man Scotty is probably the best-known EPA administrator in years for his many scandals.
The president tells us he is going to drain the swamp in Washington, D.C. Who better to drain the D.C. swamp than a Swamp Thing like Scotty? It takes one to know one. Thinking about Scotty draining the swamp reminded me of one of the classic movies of all times, "Swamp Thing." The plot of "Swamp Thing" is a bit convoluted, but basically, Dr. Alec Holland is a scientist who managed to get doused in a secret formula that grows plants, is set on fire and jumps into a swamp to put out the fire. Dr. Al mutates into the Swamp Thing, who is part plant and part man.
Dr. Al is scary on the outside but a sweetie on the inside. He falls in love with the enormously talented Adrienne Barbeau, who plays a lady scientist who has to take a bath. The Swamp Thing and Scott Pruitt are similar in looks and may have been separated at birth. Scott undoubtedly got chosen for his job as a result of his resemblance to the Swamp Thing.
Scotty can generate more scandals in a single bound than Superman can jump over tall buildings. And yet, he persists despite all his troubles. What is so colorful as a Scotty Scandal? Let me count some of the ways: $130 fountain pens for signing orders voiding environmental regulations; first class air plane flights to keep him away from the hostile, unwashed masses yearning to breathe free and clean air; a $43,000 Maxwell Smart cone of silence telephone booth for calling in orders for pizza and selling the mineral rights in National Parks; and renting a room for $50 a night from a lobbyist.
Next time you are in D.C., see what sort of room you can get for $50 a night. If you find such a room, bring your AK-47 and Samurai sword, as you will need them for protection from things that go bump in the dark in a $50 room. Scotty likes to use emergency sirens on his motorcade to clear the streets of mere motorists who could get in his way to important dinner reservations at a fancy French restaurant – must not allow the Vichyssoise soup to get cold.
Let us stop for a moment to catch our breath. At the risk of boring you with scandal after Scotty Scandal, let us look at my two favorite Scotty Scandals.
At the top of my list of entertaining scandals, I place Chickengate. After taking office as head honcho of the EPA, Scotty got in touch with Dan Cathy, the CEO of Chick-fil-A, with a business proposition. Scotty wanted to hustle up a Chick-fil-A franchise for his lovely wife, Marlyn. By the time this column reaches print, the Trump/Kim summit will be in the history books. As a sop for not giving up his nuclear weapons, the rumor mill has it that Kim will allow an American fast food restaurant to open somewhere in North Korea. If it turns out that Scotty gets a fast food franchise in Pyongyang, you will know that the fix was in. As the politicians and talking heads say on TV: "When you come to the dining room table and drill down into giving Scotty a Chick-fil-A franchise in North Korea, it's a robust, win-win situation at the end of the day." Scotty can then move to North Korea to sell chicken, allowing the EPA to escape his grasp.
In a very close second place to Chickengate on the Richter scale of Politicians Behaving Badly, we find Scotty's puzzling quest to purchase a used mattress from the Trump International Hotel in D.C. For reasons known only to Scotty, he sent a federal employee paid by your tax dollars to inquire at the Trump Hotel in Washington as to how much it would cost to get a used mattress from said hotel. By now, you are probably asking yourself, "Self, why would Scotty want a used mattress from Trump Tower?"
Scotty is not just an ordinary Joe who wants a used mattress to save money. There must be another reason. Maybe he was planning on taking the mattress with him to Pyongyang when he sets up his chicken fast food franchise. There could be a shortage of Sleep Number smart mattresses north of the 38th parallel. Maybe he has been watching "The Godfather." Scotty may have
imprinted on the scene where Clemenza has to scout out locations for the Coreleone family to go to the mattresses to hang out when the war starts with the Barzini and Tattaglia mafia families. Perhaps The Donald can get Scotty used mattresses wholesale. Maybe Scotty just has a thing for stained bedding like a Glorious Leader of the Western World? As the president likes to say, "We'll see."
What's it all about, Alfie? As the great singer Tom Russell once sang: "Sky above. Mud below."
PHOTO: Scott Pruitt is probably the best-known EPA administrator in years for his many scandals.