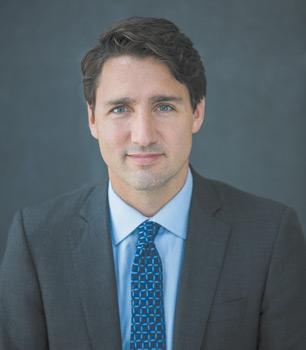 Hate him or love him, every indication is that Donald Trump understands that his first responsibility is to the citizens of America. Where the rubber meets the road in living up to that responsibility is not always a comfortable place. Trump hit one of those uncomfortable places in his recent dispute with Justin Trudeau, prime minister of Canada.
The dispute resulted from the president placing a 10 percent tariff on aluminum and a 25 percent tariff on steel imported to America from Canada and some other countries. I have no idea where the situation will stand when this column is published, but, for now, I find it instructive for thinking through, and appreciating the need to think through, the difficult issues of our time. Doing so is essential to America surviving and thriving. In this context, allow me to share what I hope is productive and accurate thinking through of this U.S./Canadian tariff dispute.
A tariff is a tax or duty to be paid on a particular class of imports or exports. In this case, the tariff is on aluminum and steel. One might start by asking why Trump imposed the Canadian tariffs. Kate Dangerfield wrote the following in an article titled "What U.S. steel, aluminum tariffs mean for Canadians — and their wallets."
"The tariffs were originally announced March 1 when U.S. President Donald Trump said that the United States was being treated unfairly. He said the import taxes will help protect American jobs and boost the U.S economy.
The Trump administration also cited national security interests for implementing the tariffs, saying the military needs a domestic supply for its tanks and ships."
In making the unfairness argument, Trump points to tariffs Canada imposes on milk products that it imports from America. Josh Wingrove and Erik Hertzberg wrote about this in an article titled "How Canada's Sacred Cows and 270 percent Tariffs Set Trump Off at G-7."
"Canada essentially allows two avenues for dairy imports – those within quota, and surplus stuff. It's the latter where tariffs spike, because Canada's whole system is built to avoid a surplus – hence its name, 'supply management.'
"Take milk, for instance. Within quota, the tariff is 7.5 percent. Over-quota milk faces a 241 percent tariff. Other over-quota rates include blended dairy powder at 270 percent. Duties rise to as high as 314 percent for other products, according to data from the World Trade Organization. Canadian officials argue that all countries subsidize dairy, including the U.S. – Canada essentially does so indirectly by closing its borders and capping production. If you've got a slice of the quota, though, the tariffs don't apply."
The bottom line of the statement above is that Canada makes it difficult for American dairy farmers to sell their products in that country. Even though the case is made that Canada has more reasonable tariffs on other products, it is clear that their aim is to protect jobs in that nation. Trump argues that, to protect jobs and build our economy, America must do the same until more fairness in trade practices is in place.
An even stronger argument for the aluminum and steel tariffs is that unobstructed access to these products is required for our national security. That is, we should not depend on other nations to supply these products that are critical in building ships, tanks and airplanes that are essential to an effective military. Further, these materials are needed for other projects that impact our economic well-being. Information at www.statista.com/statistics/209343/steel-production-in-the-us/ indicates America produced 82 million metric tons of steel in 2017. Even though this was a 3.5 million metric ton increase from 2016, it was a dramatic decrease from 98.2 in 2006. Various other references show that in 2017, America imported 36.9 million metric tons of steel, with 17 percent of that amount coming from Canada. This means, in 2017, we imported an amount of steel that equaled 45 percent of what was produced in America. At 17 percent, Canada provided more steel to us than came from any other country.
Thinking through these facts says we are dependent, and seemingly growing more dependent, on other countries for a product, steel, that is essential to our national security and economic well-being. This does not grab me as a wise course. Similar analysis can be done regarding aluminum.
As I understand it, the kinds of concerns presented above, coupled with the large trade deficits America has with many countries and high tariffs assessed on our exports, Trump forthrightly argues that America is being treated unfairly by many of our trading partners. The failure of countries, such as Canada, to take steps to rectify the situation resulted in the steel and aluminum tariffs. Trump pressed the case at the recent G-7 Summit in Canada. The G-7 consists of Canada, France, Germany, Italy, Japan, the United Kingdom and the United States. Trump left the meeting early and flew to Singapore for what proved to be a historic and promising summit with Kim Jong-un, Supreme Leader of North Korea.
A section of the communique released by the G-7 at the conclusion of their meeting appears to address Trump's trade concerns. It states, "We acknowledge that free, fair, and mutually beneficial trade and investment, while creating reciprocal benefits, are key engines for growth and job creation. We recommit to the conclusions on trade of the Hamburg G-20 Summit, in particular, we underline the crucial role of a rules-based international trading system and continue to fight protectionism."
Despite the commitment reflected in the preceding quote Trudeau held a news conference as Trump was flying to Singapore. In an article titled "In Context: What Justin Trudeau said that made Donald Trump angry," Manuela Tobias quoted Trudeau as follows:
"I highlighted directly to the president that Canadians did not take it lightly that the United States has moved forward with significant tariffs on our steel and aluminum industry, particularly did not take lightly the fact that it's based on a national security reason that for Canadians, who either themselves or whose parents or community members have stood shoulder-to-shoulder with American soldiers in far-off lands and conflicts from the First World War onwards that it's kind of insulting. And highlighted that it was not helping in our renegotiation of NAFTA and that it would be with regret, but it would be with absolute certainty and firmness that we move forward with retaliatory measures July 1, applying equivalent tariffs to the ones that the Americans have unjustly applied to us."
Trump and several members of his administration voiced very strong opposition to Trudeau's news conference comments. Trudeau, as the president is flying to Singapore, makes this statement that, in my estimation, is totally contrary to what he agreed to in the G-7 Communique. Instead of negotiating, he is retaliating. Beyond that, his dismissal of our national security concern does not reflect serious consideration of that concern. The president tweeted that Trudeau was "dishonest & weak." Here was an American president on a mission to help save the world from a nuclear disaster. Trudeau picks that time to undermine the president while claiming to be a friend of America.
For me, thinking through all of what is presented above produces this conclusion: America must make every effort to ensure the well-being of our citizens; maximize self-sufficiency in producing products that are essential to our survival, security and prosperity as a nation; and only trust countries that prove themselves, by actions, deserving of our trust.
Making these things happen requires leaders who do not collapse when the rubber meets the road.
PHOTO: Canadian Prime Minister Justin Trudeau