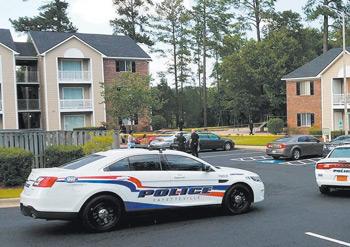 Fayetteville police interrupted what might otherwise have been a deadly assault last week. Police Sgt. Charles Cochran shot Lemuel Bunn, 40, of Roanoke Rapids, after Bunn repeatedly stabbed a woman in her home at Treetop Garden Apartments off Raeford Road.
Police said the assailant had Stephanie Williams, 34, in a headlock when officers forced their way into the apartment. Police Chief Gina Hawkins said Bunn held a knife in his other hand and refused to drop it when told repeatedly to do so by officers. That's when he was shot. Bunn died later at Cape Fear Valley Medical Center.
Williams, who is pregnant, had called 911 to say she was being held hostage. She is listed in good condition at Cape Fear Valley Medical Center, where she and her unborn child are recovering.
The State Bureau of Investigation is investigating the shooting. Hawkins said FPD internal affairs is also investigating to verify that policies and procedures were followed. Cochran is on paid administrative duty during the investigation, which is standard policy.
Death row killer loses appeal
The U.S. Supreme Court has once again declined to hear the case of convicted serial killer and rapist Ronald Gray, a former Fort Bragg soldier sentenced to death 30 years ago.
Gray was convicted in one of this community's most sensational crimes – a series of murders and rapes in Fayetteville and on Fort Bragg.
The high court first declined to review Gray's case in 2001. Two years ago, a federal judge removed a stay of execution that had been in place since 2008, potentially clearing the way for the Army to schedule Gray's execution, which former President George W. Bush authorized.
Gray filed numerous appeals in recent years claiming errors during his military trial and subsequent appeals. Many of those appeals have been dismissed or delayed by a U.S. District Court in Kansas, the 10th U.S. Circuit Court of Appeals, the Army Court of Criminal Appeals and the U.S. Court of Appeals for the Armed Forces.
Gray is the longest-serving inmate on death row at Fort Leavenworth, Kansas.
A former resident of Fairlane Acres Mobile Home Park in Bonnie Doone, Gray was convicted of rapes and murders that were committed in 1986 and 1987 on Fort Bragg and in Fayetteville. He murdered taxi driver Kimberly Ann Ruggles, Army Pvt. Laura Lee Vickery-Clay, Campbell University student Linda Jean Coats and Fairlane Acres resident Tammy Wilson. A Fort Bragg court-martial sentenced him to death in 1988. A year earlier, a civilian court sentenced him to eight life sentences. His execution would likely take place at the U.S. Federal Penitentiary in Terre Haute, Indiana.
Fall police academy
The Fayetteville Police Department is doing a different kind of recruiting. Residents who are interested in attending the next Citizens Police Academy can sign up on the FPD's website, www.FayPD.com, or using the FayPD mobile app. Applications should be submitted no later than Aug. 28, to allow time for processing.
The weekly series of classes will begin Tuesday, Sept. 11. The Academy will meet every Tuesday, from 6-8 p.m., at the police training center off N. Eastern Boulevared with the last meeting being held Nov. 6. Residents of Fayetteville who want to know more about police department operations are encouraged to attend.
"Information provided should foster community relationships intended to make for a safer city," said Community Affairs Sgt. Shawn Strepay. "The Fayetteville Police Department is looking forward to another successful, informational and exciting Citizens Police Academy."
Lawn watering schedule
July is Smart Irrigation Month, and Fayetteville's Public Works Commission urges residents to give their irrigation systems the day off by following PWC's year-round odd-even schedule for outdoor watering. If your street address ends in an even number, water your lawn on Mondays, Wednesdays and Saturdays. If your street address ends in an odd number, water your lawn on Tuesdays, Thursdays and Sundays.
Rain sensors are devices that can be attached to an automatic irrigation system to monitor rainfall levels. PWC is offering a bill credit of up to $50 for installing rain sensors. When the weather is wet, the sensor temporarily overrides the controller to prevent unnecessary watering to save money on water bills.
Duke Energy wins major award
If you're a reservist looking for an employer that will accommodate your military duties, you need not look any further than the latest list of recipients of a prestigious Pentagon award. Fifteen organizations were recognized with the 2018 Secretary of Defense Employer Support Freedom Award. One of them is a North Carolina utility.
"Our National Guard and Reserve members are a vital part of our national defense and deserve as much support as our country can provide," Defense Secretary James Mattis said in a news release.
The honorees include Duke Energy. Each year, guard and reservist employees and their families nominate employers for DoD Employer Support of the Guard and Reserve awards. The 15 companies getting the highest honor were chosen from more than 2,350 nominations. They will be recognized in a ceremony at the Pentagon on Aug. 24.