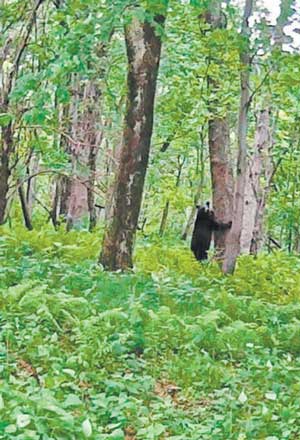 I just got back from a four-day trip. I wrote this while sitting at Panera Bread eating a bear claw, which has nothing to do with the title of this article, but they are really yummy, and the title of this article is about bears. A few weeks back, my friends Bob, Bill (Harley fellows) and myself met up in Blowing Rock for a week of travel.
In Blowing Rock, we stayed at the quaint Mountainaire Inn. As the evening rain pounded away, wine was the drink of choice to kill time before dinner.
The next morning, Bob was up early and had wiped the rain off the bikes. He is such a gentleman. We headed north on the Blue Ridge Parkway.
The Blue Ridge Parkway is the longest linear park in the U.S. and is 469 miles long. It was established in 1936, is one of the most scenic roads in America and is only four hours from Fayetteville.
Heading north, we decided to visit the Appomattox Court House in Virginia. We arrived that afternoon. Here, General Lee surrendered to General Grant, an event that is forever engraved in America's history.
As we walked the grounds, dark clouds started to roll in, and we decided to head north. We headed to the Natural Bridge Inn at Natural Bridge, Virginia. The inn is across the street from the Natural Bridge rock formation, which is a 215-foot natural arch. The inn is a nice, cozy hotel with a nice bar and restaurant.
That afternoon, I got word that I was a brandnew grandfather. Mom and baby Jacob were fine. They were at Walter Reed Military Hospital in Washington, D.C. After breakfast the next morning, I decided to take off to the district to see the baby. For breakfast we went to the Pink Cadillac Diner, which is not far from Natural Bridge on I-81. This place has great food and a super cool vibe for a diner.
We agreed to meet up later that day in Harpers Ferry, West Virginia. Bill and Bob headed back to the hotel, and I headed to Washington.
As I looked down, my tire pressure warning light was flashing. Sure enough, I had picked up a nail in my tire. I was able to plug it (you've got to love tubeless tires), and I was back on the road. The baby was so cute (I think I have to say that).
After a few hours of visiting, I headed out and got stuck in Washington traffic. After a minute in traffic, I said, "Wait a tick, I'm on a BMW, we don't get stuck in traffic." I set my bike to its off-road mode and set the GPS for curvy and unimproved roads. In less than half a mile, I was off the interstate and headed through some beautiful little town of western Maryland on my way back to Harpers Ferry.
The next morning, we spent several hours visiting historical Harpers Ferry. There is so much history there, from the western expansion to the armory attack in 1859. Prior to the Civil War, John Brown lead an attack on the armory to give guns to the slaves so they could fight for their own independence. A few days later, he was caught by General Lee and hung for his crime. By today's definitions, he would be considered either a domestic terrorist or a civil rights leader.
Around noon, we headed to Front Royal, Virginia, to ride the Skyline Drive through Shenandoah National Park. The Skyline Drive is 105 miles long and ends at Waynesboro, Virginia, where the Blue Ridge Parkway starts.
Shenandoah National Park is home to a high concentration of black bears. There, we saw five bears on this single ride. I have ridden the Skyline over 50 times and have never seen a bear. Like deer, one jumped out in front of Bill, then a few miles later, one in front of Bob. I was volunteered to be the official photographer for this trip. While stopping to take pictures, as I was getting my camera out, I was mindful that I did not want to get laughed at on the 6 o'clock news nor for my last picture to be a close-up of a bear's mouth.
The last stop for this trip was in Waynesboro, Virginia. We stumbled on a great restaurant called Green Leaf Grill, which was a super find.
This next morning, our trip would come to an end. I said goodbye to Bob before turning in. He was heading to Nashville and was planning to leave before I planned on getting up.
That morning, Bill and I headed back. In total, we rode 1,275 miles in five days. This was my third trip with Bill and Bob, and all have been memorable. I have been blessed to have such great friends as riding companions.
If there is a topic that you would like to discuss, you can contact me at motorcycle4fun@aol.com. RIDE SAFE!