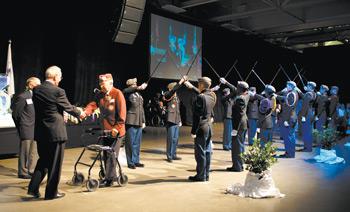 I have no idea why any red-blooded American patriot in their right mind is still supporting the National Football League and its organization of ungrateful clowns who choose to disrespect our nation by raising a fist or taking a knee when the national anthem is played. What are they thinking? Or, are they thinking at all?
This kind of behavior is just unacceptable. For the life of me, I cannot imagine why the NFL owners are allowing this practice to continue. I also have no idea why anyone is still going to NFL games, purchasing its merchandise or even watching the games on TV. Let the organization perish, as far as I'm concerned.
Honestly, is winning a football game so important that team owners are willing to allow the players they hire – their employees – to dictate such disgusting and disappointing behavior? Who's in control? The owners or the players? There is a time and place for everything. The football field is no place for political or other protests. Disrespecting our country in public to make a personal statement about police brutality, Black Lives Matter or anything else should be unacceptable and should not be tolerated. Nor should it be negotiated.
This past weekend, I attended the Sandhills Purple Heart Dinner at the Crown Expo Center. It was a great event, and I couldn't help but think how appropriate it would be if NFL players like Colin Kaepernick were there to witness up-close and personal the Purple Heart recipients
who were recognized as the real heroes of defending American freedom. They would have seen and heard of the sacrifices these men and women of our armed forces made to secure our nation's freedom and to protect their rights to make millions of dollars playing the game of football in the land of the brave and free.

Unfortunately, what the football players would not have seen are the thousands who have died and the loved ones of those who are missing in action because of their choice to serve our country so we, as U.S. citizens, can enjoy the amenities of American freedom. I would like the NFL players to see the bravery and pride of these heroes who attended the Purple Heart Dinner, the trembling lips and tears of the Gold Star mothers whose lasting honorable memory of their sons, husbands and daughters is that they died in defense of our nation. These were touching moments, and I couldn't help but think that this is the type of event NFL owners should insist their team members attend.
Maybe then the players would realize the error of their ways and how misdirected their intentions are. Until then, I'm taking a knee to the NFL and its management, and I hope Budweiser and other major sponsors do the same.
If the NFL cannot control its players, then neither of them deserve my time, money or loyalty.

Kudos to the Sandhills Purple Heart Association, the local businesses and organizations, and the hundreds of volunteers who hosted this year's Purple Heart Dinner. It was a massive undertaking, and it was very well done. It was dignified and respectful. I can still see the glimmer of the swords held high and proud by the young South View ROTC cadets as the real American heroes passed through the arch when
they heard their names. The food, songs, drums, bag pipes, and the precise cadence of the honor guards with their swords paid high honors to our special guests. It was an evening of patriotism, recognition and honor that ended with duel bugles solemnly playing taps and paying homage to those who have died in service to our country.
It reassured the rest of us that they have not died in vain. It was a powerful reminder of how important our veterans are to our community.
Thank you for reading Up & Coming Weekly.
Photo by Teresa Hayter of brokencrayonsphotography.