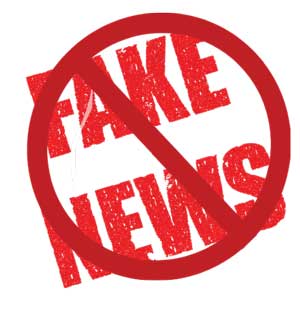 There seems to be a lot of attention given to fake news lately. In our neck of the woods, Methodist University conducted a panel to discuss it, The Fayetteville Observer is writing about it, and Jeff Goldberg (Goldy), the host of WFNC 640 AM's morning show, recently criticized our newspaper for creating fake news about local events. Most recently, the best article about fake news was written by The Fayetteville Observer's Sandspur stringer Lisa Carter Waring of Hope Mills. It was well-written and insightful, considering her involvement in Hope Mills issues – specifically, the ongoing controversy involving the Lone Survivor Foundation, which is trying to locate a $1.5 million military veterans retreat center in Hope Mills.
Waring's article "Fake news isn't anything new," which ran Sept. 4, reads like a hybrid of an admission and a self-indictment of her own campaign conspiring with Hope Mills Commissioners Mike Mitchell and Meg Larson. The three of them have disseminated inaccurate and misguided information, seemingly for the sole purpose of undermining the progress and achievements of Hope Mills Mayor Jackie Warner and any project, person or organization aligned with Warner – including this newspaper. Equally egregious is that Waring, Mitchell and Larson found another willing partner to pile on the Warner smear campaign in Goldy. Waring is using her trusted position with The Fayetteville Observer, along with her private and selectively restricted Facebook group, Hope Mills Chatter, to perpetrate her own fake news. And she's doing it under the guise of being a concerned Hope Mills resident looking out for the town's best interests.
What we have been concerned with here at Up & Coming Weekly is the fact that such influential people like Waring, Goldberg, Mitchell and Larson intentionally dismiss the truth and ignore the facts to accommodate and enhance personal agendas. This is unethical in regard to trustworthiness in media, and, for the commissioners, at least, it disregards the sworn oath and obligations of elected Hope Mills officials. It reflects poorly on the integrity and character of each person involved.
Here are the facts.
1. Goldy spent 20 minutes interviewing Mitchell and Larson Aug. 23 about the Hope Mills Board of Commissioners' rejection of and objections to LSF's request to purchase property on Lake bed #2 in Hope Mills.
2. Elizabeth Blevins of Up & Coming Weekly and Hopemills.net provided portions of that radio interview transcript along with a link to the entire interview in the Sept. 5 edition of Up & Coming Weekly, where she rebutted specific points with documented proof – all of which is a matter of record.
3. Aug. 28, Warner was interviewed on the same radio show, by the same person. Warner did an excellent job explaining the LSF's mission and objectives as well as her position on the matter. She did this gracefully and professionally while refuting her detractor's allegations that "the fix was in" and that proper protocols were not followed.
4. Up & Coming Weeklydispels fake news. In all cases, our name, titles, credentials and photos are on every article we pen. We own our content and are responsible for it. In addition, we return all our calls and respond to texts and emails. More importantly, concerning the Hope Mills controversy, both Blevins and I included in our articles a direct challenge and open invitation to all the parties involved that if they found anything in our articles that was misrepresented, inaccurate or not factual, we would get it corrected immediately.
5. The challenge went unanswered. We have not heard from anyone. No public rebuttal, no phone calls, no emails or text messages. Why? Because Larson and Mitchell have found themselves in indefensible positions when it comes to providing facts and being truthful.
Here's the takeaway: Goldy will not have me on his show because he knows I have command of the Hope Mills situation and I will speak from a base of absolute facts as I know them, as Blevins has documented them, and as Warner has articulated them on Goldy's own radio show.
Mitchell and Larson will continue undermining the mayor's efforts. They want to obstruct Warner's effectiveness and impede her progress while trying to damage her credibility in the process. They will resist contributing to or participating in anything constructive, even if it benefits the town of Hope Mills and its residents, if they feel such actions will reflect positively on the mayor, or worse, further endear her to the Hope Mills community.
Waring, who writes for The Fayetteville Observer and commands her private Chatter Facebook group, will continue to struggle with her own credibility issues.
Here is what we know for sure: All these people have issues, and they all have access to media. This doesn't mean that everything (or anything) they say, write or post on social media is accurate. However, everything you read in Up & Coming Weeklycan be substantiated. And, in response to Goldy's allegation that I only print one side of an issue, the policy at Up & Coming Weekly for 23 years has been that we will provide the space for anyone to respond to or opine on any subject or topic discussed in our publication. Up & Coming Weekly welcomes and supports the sharing of all viewpoints.
Thank you for reading Up & Coming Weekly!