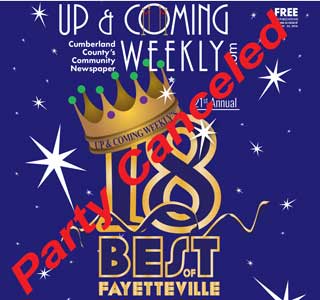 Editor's note: Publisher Bill Bowman and the staff at Up & Coming Weekly look forward to celebrating our Best of Fayetteville winners every year. The excitement, the party and the memories we make each year are an integral part of our company's identity. Hurricane Florence has other plans for us this year, though. We are still celebrating the Best of Fayetteville winners, but the party is off. And we are devastated – for the community and the destruction Florence has wrought. Below is the text from a press release announcing Bill's decision to cancel this year's Best of Fayetteville party as the community turns to rebuilding and recovering.
For 21 years, Up & Coming Weekly has celebrated the very best in this community with a reader survey followed by a Best of Fayetteville celebration. This year's celebration was scheduled for Tuesday, Sept.18. Due to flooding and other damage by Hurricane Florence, the party has been canceled indefinitely.
"We are devastated and heartbroken over the catastrophe facing our community and our neighboring counties," said Up & Coming Weekly Publisher Bill Bowman. "However, we are a resilient and caring community. Hugo, Fran, Matthew and now Florence were all unwelcome guests that came and went, leaving paths of destruction in their wake and changing our lives forever by testing our mettle and strengthening our resolves. It is unfortunate that we face these challenges at a time when we are celebrating and congratulating our Best of Fayetteville winners. Now, it's time to focus entirely on putting families and lives back together and rebuilding our homes and businesses."
The Best of Fayetteville readership and community survey is sponsored by Up & Coming Weekly, the Greater Fayetteville Chamber and the Better Business Bureau. It is a comprehensive and rigorous process where local residents write in votes for their favorite people, businesses and organizations. Thousands of readers cast their vote each year. Once the ballots are counted and validated, the winners are announced and honored at a free celebration hosted by the sponsors.
The Best of Fayetteville winners also receive feature write-ups in the Best of Fayetteville edition of Up & Coming Weekly. This is the largest and most-read edition of the year and is used year-round to introduce newcomers to the Fayetteville/Cumberland County community. This edition also remains online all year at www.upandcomingweekly.com. All winners have hyperlinks back to their websites.
"Winning Best of Fayetteville is a really big deal," said Best of Fayetteville Program Manager Don Garner. "The winners deserve to be recognized, and we will be contacting each winner in the coming weeks to make sure they are properly congratulated."
Up & Coming Weekly is much more than aweekly community newspaper. Since its creation in 1996, its mission and focus has been to accentuate and illuminate the quality of life enjoyed here in Fayetteville, Fort Bragg and Cumberland County.