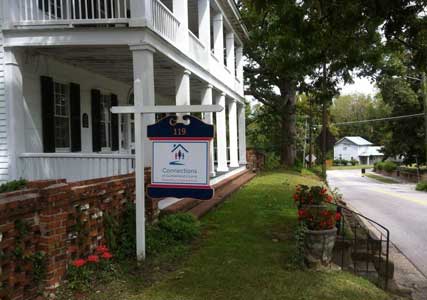 Hurricane Florence remains a nightmare for millions of North Carolinians, thousands of us in Fayetteville and Cumberland County. Florence was deadly to some, including a young child swept from his mother's arms by floodwaters. Florence's name and memory now rank with those of Hurricanes Hazel and Fran.
Imagine being a homeless woman with children to provide for facing Florence without shelter.
The sad and reprehensible fact is that there are fewer shelter beds in our nation and our community for women than for men, and fewer still for women with children. Many factors contribute to this sad reality, including high rates of assault and sexual abuse of women in shelters. A local group of caring and committed women decided to do something about homelessness of women and children in our own community.
An outgrowth of the Women's Giving Circle of Cumberland County, Connections of Cumberland County was born in 2014 to provide not only food and shelter connections but solid footing for a productive future. It operates on the philosophy that feeding, clothing and sheltering people in need is well and good, but providing the skills for them to do so themselves is the gift that keeps on giving.
In addition to meeting urgent needs for food and shelter, Connections offers a one-stop day resource center. Clients can access technology necessary for job applications, collaborate with other service agencies to meet needs such as school placements, work to stabilize lives that have become chaotic, and plan for their futures, all while their children are safe and protected. Several program areas, including case management, internships and an online store, help clients build personal accountability.
One Connections veteran has completed a master's degree and is now employed full-time with a local nonprofit, giving back what was given to her, often crediting Connections.
Another Connections client I will call Stephanie, a single mother of four, described her experience with Connections far better than I can."I came into Connections last year (2017) needing financial assistance with my rent. … Considering the ability to remain financially stable is predicated on the ability to practice good money management skills, I was given in-depth advisement on how to manage my money. I was given a personal advocate/adviser named Peggy that calls me every Saturday and sometimes during the week to check on me."
"The most helpful resource that I have utilized from Connections is their funding, (which) allowed me to continue to seek therapy through 'Thrive' counseling. … I take full advantage of the resources Connections provides."
"With counseling, … meetings and my personal adviser, I have been able to successfully remain financially, emotionally and mentally stable. Currently, I am a senior at Fayetteville State University studying social work. I graduate with my Bachelor of Social Work in May 2019. I have been working on my credit for nine months. I am pleased to announce that my credit score has improved, and I am now in the market to purchase my own home."
Stephanie is a young woman and committed mother who is righting her own ship with the support and guidance of Connections, a group of local women – and several men – who have committed themselves to her and other women in similar circumstances.
Connections is locally funded and welcomes com-munity support, not only our treasure, but our time and talent as volunteer adviser/coaches like Stephanie's friend, Peggy. If you are moved to help, you can reach Connections at 910-630-0106 or through its website at www.connectionsofcc.org.
Connections is a confidential organization, so we do not know of women who sought its help during Hurricane Florence. Whether they come during a driving rain or in the bright sunshine, Connections is a light at the end of a dark tunnel for many who desperately need that beacon.