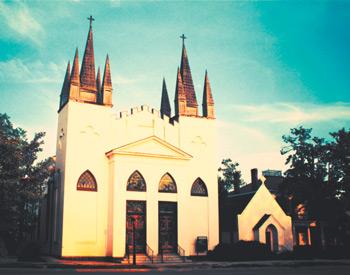 Fayetteville has a big heart and an even bigger spirit. This community's outpouring of generosity, love and compassion was well demonstrated dur­ing Hurricane Florence. Though the storm is over, repairing the damage, destruction and heart­break will be a long-term endeavor. The news cov­erage and headlines that swirled around Florence will soon dissipate, but for hundreds of citizens, the suffering is far from over. Clothes, food, shelter, medical care and money will be needed over the long haul to bring these tattered lives back to a sense of nor­malcy. Sunday, Oct. 7, St. John's Episcopal Church is set to host an event that will help move the city forward.
Inspired to help with hurricane recovery, St. John's Episcopal Church new director of music, Ryan Pagels, took action. Pagels and his commit­tee organized a concert to benefit the community that will include ensembles from the Fayetteville Symphony Orches­tra, the FSO Youth Orchestra and the Methodist University Chorale. There will also be performances by MU faculty and students as well as from Fayetteville Academy and a host of other local pro­fessional musicians.
"It is truly a community effort for the community," Pagels said. "We were very blessed that the church sustained mini­mal damage from the hurricane and the flooding that followed."
St. John's has a long history of giving back to the area it calls home. It has been doing so since its founding in 1817. And according to Pagels, hosting this concert is yet another way to meet the needs within the area and help those who were significantly impacted by the storm.
Up & Coming Weekly will be at the concert, and we look forward to a mag­nificent turnout and outreach by the community. We look forward to sup­porting many other local businesses and organizations as they each bring their unique strengths to the effort to rebuild and heal our city, too.
Fayetteville is home to many institu­tions built on the honorable legacy of serving humanity. And you don't have to look far to see the positive and long-last­ing effects they have each had with their active in­volvement in Fayetteville and Cumberland County. Along with St. John's, the Salvation Army, Operation Inasmuch, Fayetteville Urban Ministry and Con­nections of Cumberland County are just a few organizations dedicated to making this community a better place.
We salute Pagels and all those at St. John's who helped organize this con­cert. Up & Coming Weekly community newspaper is all about promoting and showcasing the assets and good things that are hap­pening in our community, and it doesn't get any bet­ter than this.
The Hurricane Relief Benefit Concert is set for Sunday, Oct. 7, at 2 p.m. at St. John's Episcopal Church. The event is free, but dona­tions are welcome. All monies collected during the concert will go the Hurri­cane Disaster Relief Fund that is be­ing administered locally by the United Way of Cumberland County and the Cumberland Community Foundation. For more information, contact Pagels at 910-483-7405 ext. 119.
St. John's is located at 302 Green St. in historic downtown Fayetteville. We hope to see you there. Thank you for reading Up & Coming Weekly.