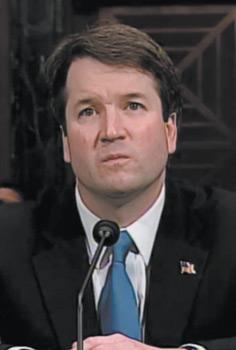 Americans watched in horror last week as the U.S. Senate Judiciary Commit­tee contorted itself over the nomination of Brett Kava­naugh to the U.S. Supreme Court. Dr. Christine Blasey Ford, a woman from his distant past, has accused the nominee of sexual assault, and the commit­tee heard from both the accuser and the accused. Both gave emotional and riveting testimony to the committee. No matter whether one believes Ford is a blatant liar or Kavanaugh is either that or a blackout drinker, the entire process was excruciating to watch.
Decades ago, I was part of a small group of women who founded Rape Crisis Volunteers of Cumberland County, an agency that continues to provide coun­seling and other support services to victims of sexual assault, both women and men.
Here is what I know from my own experiences and from factual data from the U.S. Justice Department and its various data reporting arms.
Nearly a quarter of a million Americans 12 and older are victims of sexual assault every year, with the highest risk being between the ages of 12-34. About 10 percent of them are men. All victims of a completed rape sustain physical injuries as do many victims of other sexual assaults. In addition, victims are three times more likely to suffer depression and six times more likely to suffer post-traumatic stress disorder than non-victims.
More than half of all sexual assaults are reported to have occurred in the victim's home or in the home of a friend, rela­tive or neighbor between 6 p.m. and midnight. The closer the relationship between the victim and the assaulter, the less likely the assault is to be reported. Two-thirds of all assault­ers are known to their victims. Stanford University research finds that about 2 percent of sexual assault claims are false, making 98 percent true, though only about 40 percent are reported to authorities.
Our nation's highly charged and toxic partisan poli­tics have victimized both Ford and Kavanaugh. It has exposed a woman apparently motivated by the good of her nation and a man with a long and distinguished career and turned them into puppets for partisan purposes. Their lives and those of their families will never be the same after national exposure and result­ing death threats. Republicans in Washington, D.C., see Ford as a Democratically controlled Jenny-come-lately obstructionist trying to block decades-old plans to control federal courts, including the U.S. Supreme Court. Democrats see Kavanaugh as a pawn of the right wing, whose appointment could hijack our nation's highest court for a generation. Both of them – indeed all Americans – are being jerked around by a handful of U.S. Senators while they attempt to strong-arm enough votes to confirm Kavanaugh.
All any of us can do is watch and wait while the power struggle continues behind closed doors in Washington. The cold, hard reality is that even with an FBI investigation, truncated as it may be, we may never know more truth than we know now. This painful episode may go down in history as "she said, he said" forever.
One way or another, Ford and Kavanaugh will eventually exit our national stage's glaring spotlight. What will remain and continue to poison us is the toxicity of our highly charged partisan politics. Two emotional women identifying themselves as survi­vors of sexual assault confronted Republican Sen. Jeff Flake of Arizona in a Capitol elevator last week, with one demanding, "Look at me and tell me that it doesn't matter what happened to me. Don't look away from me."
She was talking about sexual assault, but we can­not look away from our political reality either.
The partisan politics that everyone despises has so tainted our public life that we are allowing it to undermine the foundation of our country. If we or our elected representatives cannot act for the good of country over the good of party, we are endanger­ing our democracy.
Photo: Judge Brett Kavanaugh