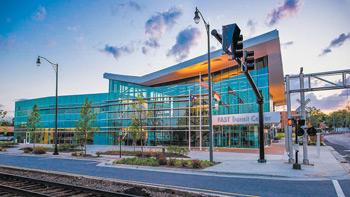 In my writing, I frequently criticize American governmental entities at every level. That is, from local to federal, I do not hesitate to voice my general disappointment with the actions, and lack of action, by various political bodies and individuals. Granted, failure to act is an action. It is against this back­drop that I share what, for me, was an encouraging, absolutely refreshing, experience. Even in the midst of my despair regarding the condition of our nation and world overall, I do see and write about hope-inspiring observations.
On Monday, Sept. 10, I attended a meeting of the Fayetteville City Council. There was a time when I attended these meetings on a frequent basis. The meetings became so chaotic, confrontational and filled with grandstanding by council members, that I stopped attending. I would watch meetings on television from time to time. Given my interest in one item expected to come up during the meeting, I went to that Monday night's meeting.
It happened that Michael Worrell, chairman of the Fayetteville Advisory Committee on Transit, was on the agenda to give a report. This was not my reason for being there, but his report proved to be, in my esti­mation, very encouraging. One source of my ongoing disgust with governmental bodies is the scarcity of thoughtful assessment of issues followed by actions that make sense and hold promise of proving effec­tive. I saw all of these rare qualities in Worrell's report. Here is a summary of what he presented regarding the work of his committee over the last year:
The transit center was certified and is fully oper­ational. The bidding process is underway for renting office space and attracting food service vendors.
Greyhound and Megabus are operating from the transit center.
Bus routes were modified. Sunday bus service was added.
Shelters and benches were added at various bus stops.
These actions are planned for the coming year:
Identifying and instituting procedures for moni­toring system performance.
Rework the marketing plan, with a focus on col­lege students. FAST was represented at Fayetteville State University's Freshman Orientation. The presentation was well received. Similar efforts will be made at Methodist University and Fayetteville Technical Community College. The aim is to inform students so that they get into traveling the city on the bus system.
Educate citizens regarding use of the system. The desire is to provide the basic information – from purchasing a ticket to actual travel. Given that the system is looking at ways to better use technol­ogy, the resulting improvements in this area will be part of the citizen education endeavor. Among the technology improvement possibilities is ticketing through mobile devices. This effort will also seek to, among citizens, develop pride in the system.
Introduce shuttle service for major events such as The Dogwood Festival, baseball stadium events and so forth.
Discuss expansion of the FAST service that is now available to Fort Bragg.
Prepare a five-year plan for the system that will detail system efforts for each year and include finan­cial projections/analysis.
Work on a fare discount program for students. Such an arrangement must be approved by the city council. A semester pass is one idea that's being considered.
Work with human resources to revamp the current FAST personnel evaluation process to give better feedback to employees. Further, action will be taken to share the impact of and responses to key initiatives with employees. Have employees know that their performance influences how citizens view the system.
Give attention to improving connectivity with other nearby municipalities.
I realize what is presented above is a long list. My contention is that the list is worth reviewing because reflected in it is a high level of thought, planning and execution that is rare in government. It only takes a moment of pause and reflection to see the truth in that statement.
When you finish reading this column, go to your television. Turn on any of the networks that do news and commentary 24 hours a day, seven days a week. I guarantee that you will see report after report, commentary after commentary, that ad­dress actions, and lack of action, at every level of government that make absolutely no sense. They reflect zero productive thought, a lot of meaning­less talk by politicians who are far more concerned with winning reelection than doing what is good for their constituents, and citizens protesting, or otherwise complaining, while accomplishing noth­ing that improves the conditions underlying their protest or complaint.
What I observed in the council meeting was tremendously impressive and encouraging. That refreshing experience was extended when I visited the city's website to research FACT. The statement of purpose reads: "To address the public transporta­tion needs of Fayetteville North Carolina in a proac­tive way by providing recommendations to the City Council, management, users and the general public in an effort to create a comprehensive and cohesive transit system that responds to our community's present and future needs."
Wow – a governmental entity that is actually deliv­ering on its stated purpose.
As though that "wow" was not enough, I looked at the composition of the commission. Here is what it shows: "One FAMPO director or designee; One Lo­cal Community Business Representative; Two ADA riders or representatives; One Bus rider; Two city residents; One city resident who resides outside the area services by FAST; One FAST driver/operator. All Commission members must reside in Fayetteville."
At the bottom line, in the midst of paid elected officials and employees, this committee is made up of volunteers. In my estimation, they are performing in a fashion that provides a model for others in every area of service or business, not only in government. However, given that this is a governmental entity, their approach and performance should be seri­ously studied and adhered to by other individuals and entities in government at every level.
Fayetteville Advisory Committee on Transit, I commend and thank you.