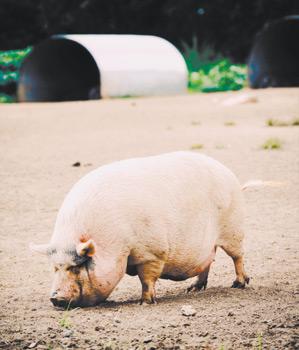 Editor's note: The following submis­sion is in reference to Rep. Billy Richard­son's opinion piece titled "Profit before people? No thanks, Smithfield!" which ran in the Sept. 19, 2018, issue of Up & Coming Weeky.
Livestock farms stink. They always have.
We should be extremely grateful for hog, poultry, cattle and dairy farmers who are willing to work long days in tough conditions to provide food for our tables.
Recent outrageous and excessive jury awards against the hog industry in our state threaten to put farmers out of business, so it is important that those representing us in the North Carolina General Assembly understand the appropriate role of government in ad­dressing this challenge.
Sound public policy is needed – not reckless spending.
A battle has been brewing in the North Carolina hog industry for some time. It boiled over this spring. The story really started several years ago when a group of attorneys developed legal arguments that would allow them to circumvent caps on the amount of punitive damages a jury could award - legal arguments that allowed for a $50 million judgment this spring on behalf of 10 homeown­ers living near hog farms. The appeals process may reduce that amount to $2.5 million, but more plaintiffs have been recruited, and their cases are awaiting trial. Total jury awards could reach half a billion dollars.
The problem is clear. Homeowners living near hog farms have been able to secure judgments many times greater than the entire value of their home and property – something that our laws never intended.
Our legislature did the right thing during short session this year. They changed the law. Judgments in any future lawsuits for "nuisance" livestock odors may no longer exceed the total value of the property exposed to the natural consequences of livestock operations nearby. That is good public policy. We should not be punishing our farmers who are fol lowing the rules in place.
There have not been any new hog operations permitted in North Carolina the past 20 years, so the sparse populations nearby are not just figuring out there is a hog farm around. Yet, many lawsuits remain in the pipeline, and the agenda driving them is searching for an agreed path forward.
What ought to be clear is that it is not the respon­sibility of taxpayers here and across the state to come up with what is likely to be hundreds of mil­lions of dollars for new state-of-the-art technology that can contain most of the odors. The hog industry is a highly profitable business controlled by multi-national corporations, who need our farmers.
Rep. Billy Richardson has proposed asking Governor Roy Cooper to call a special legislative session, so that the General Assembly can appro­priate taxpayer dollars for upgrade costs of nearly 2,300 hog operations in North Carolina. He wants to use millions of dollars from our state's rainy day fund to provide matching money for the upgrades that will reduce odors.
This is where sound public policy needs to push back. It is not the respon­sibility of the taxpayers in North Caro­lina to retro-fit hog lagoons. And, Rep. Richardson is wrong to suggest spending down rainy day funds intended to carry us through the next economic downturn or natural disaster.
It was just a decade ago that recession struck, and despite the highest tax rates in the southeast at that time, our state did not have sufficient funds to meet payroll. Teacher pay was cut in May and June 2009, and remained frozen for five years, while our state repaid a $2.6 bil­lion debt, and climbed out of the hole. All because we had been spending and borrowing so freely that we had little in reserve. We are only now able to offer substantial pay raises that will once again allow our teachers here to earn above the national average pay – for the first time in a decade. Why? Because our current legislature has not been lured into throw­ing money at problems that are not the responsibility of government to fund.
If Rep. Richardson is successful in persuading Gov. Cooper to call a special session of the legislature to prioritize hog farm subsidies over critical needs that ARE the responsibility of govern­ment – such as schools and resource officers for our children's safety – we should insist that the effort be defeated – because it is bad public policy.
North Carolina families should not be asked to pay for hog industry upgrades that subsidize private production costs – no matter how much we love our bacon.