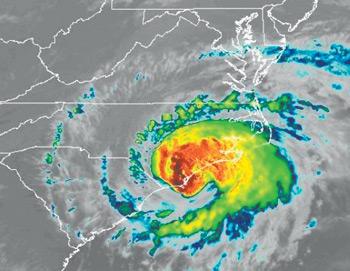 For many people in the Carolinas, this week has been hellish with the aftermath of Hurricane Florence. My heart goes out to so many that have lost so much.
A few days prior to getting my storm preparation on, I was doing a mental inventory of what I needed versus what I had. Then I thought to myself, my motorcycle has a lot of things that I might be able to use.
I have two bikes, a Suzuki DR-650 and a BMW R1200GS. Both are great bikes on and off the road.
I have traveled on both bikes for weeks in some very remote places, so I am capable of living off the grid with them. As I looked at the situation, I started breaking things down. I've always had a Plan A and Plan B for critical situations. Plan A was to stay at the house. Thus far, I have not experienced flooding but could easily be land-locked. Plan B, if needed, was to evacuate to a friend or family member's house.
For Plan A, the motorcycle bags non my GS could be used as water- proof luggage. I have a Rugged Geek RG1000 Safety 1000A Portable Car Jump Starter, Battery Booster Pack and Power Supply with LCD Display, INTELLIBOOST Smart Cables, LED Flashlight and USB and laptop charging. This is great for keeping things charged around the house.
My bike has a nice first-aid kit that has tourniquet supplies in the event of a serious motorcycle emergency. This includes stitches, Band-Aids, trauma bandages, blood clotting bandages and a few other things.
My wife had bought me a generator after Hurricane Matthew for a Christmas present. Gas was somewhat a concern for me since I have not used the generator before, so I was not sure how much gas I needed. I had three 5-gallon gas cans but was not sure how long that would last. However, I knew I had two motorcycles with almost 5 gallons each that I could siphon from and my wife's car, which has about 18 gallons.
I did discover I had a small problem with my hose that I had in the bike. It was cut
to siphon gas from motorcycle to motor- cycle and not from the bottom of a car tank to the bike's tank. SoI was short about 5 feet. This put me in a small panic. Before the night of the storm, I found a hose at Auto Zone. Relief!
I have a SPOT emergency transponder that I have mounted on whichever bike I'm on. This device runs on AAA batteries and is waterproof. It is very small and has a snap-link that can clip onto anything. The SPOT works over satellite to an emergency call center that in turn will notify 911.
As a last result, I could also use the power adapter on the bike to charge electronics or use my electric air com- pressor to blow up our air mattress in the event we needed to put up an extra guest.
If I needed to execute Plan B and get the heck out of dodge, I'd need maps. Detailed maps. I didn't have time to get them for the state, but my Garmin GPS on the bike has a car mount. That would be great because my Garmin GPS has detailed trails and other specifics that my cell phone or car GPS does not have.
For travel water, I have a few cases of water in the garage, but for the bikes, I have two 2-quart canteens and a CamelBack hydration pack for extra water.
I also have a small gas stove that I could use to cook or boil water if I needed to purify water.
Although the hurricane has passed, our day-to-day things we have around us can always be used as dual-purpose.
I hope we never have to go through another storm like this again, but Mother Nature always does what Mother Nature does.
If there is a topic that you would like to discuss, you can contact me at motorcycle4fun@aol.com. RIDE SAFE!