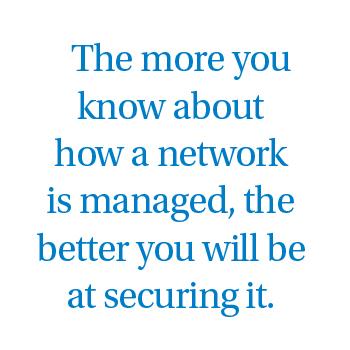 Virtually every organization is connected to the internet. As such, virtually every entity has a network that needs to be managed – including your home network on a much smaller scale. Whenever someone buys or upgrades a wireless router, connects their devices and/or configures wireless parameters, they are managing a network.
Organizations, on the other hand, have multiple computers that need to be connected to each other and to the internet. The range of technologies involved in setting up and managing a network is vast.
Information technology specialists receive training in various aspects of the industry to bring it all together. Fayetteville Technical Community College can help students learn the necessary skills to enter an exciting and lucrative career in IT/network management.
What is a network?
A network is a series of connected devices, such as personal computers and servers, for sharing resources. End devices, like PCs, cell phones and tablets, are devices used by individuals. Intermediary devices, like routers, switches and firewalls, are typically not seen. All of these devices comprise the network.
Switches connect multiple end devices together. A router connects networks. Connecting the switch to a router provides a path for the end devices to connect to other networks, including the internet.
Some devices are capable of performing more than one function, while others are designed to perform a series of dedicated functions very well and can easily scale to handle millions of events per second, such as forwarding packets. Enterprise grade routers and switches fall under this category. A packet is a unit of data that includes addressing information. The addressing information specifies where (what device) the packet came from and where (what device) it is going.
Addressing devices
Every company has a dedicated phone number followed by individual extensions to access each employee. To communicate with an employee, two parts are needed: the main number and the extension number. In a similar way, the network address of a specific computer has two components: the network portion, or main phone number and a host portion, or extension.
The address used for networking devices is called an IP (internet protocol) address. There are two flavors: IPv4 and IPv6. IPv4 allows for just over 4.2 billion unique addresses. IPv6 offers the capacity for enough unique combinations to theoretically assign a unique IPv6 address to every grain of sand on planet Earth and not come close to running out.
Other things to consider in a network
Suppose you need to install 2,000 new computers. Do you want to assign an IP address to each one individually? Of course not. You set up a DHCP – dynamic host configuration protocol – server to automatically assign IP address to devices as they are powered up.
If you need to connect 100 networks using, for example, 20 routers, do you want to configure each router with entries that tell it how to reach every single one of those 100 networks? No. You enable a routing protocol that allows each router to tell its neighbor about its directly connected networks. This information is propagated to all the other routers until the network converges. When the network converges, every router will have an entry allowing it to forward packets to any one of the 100 networks based on the destination IP address in the packet.
Security is another important concern. If the network is not secure, end devices could be at risk. The more you know about how a network is managed, the better you will be at securing it.
FTCC's programs
FTCC offers an associate degree program in IT/ network management as well as a Cisco Networking Certificate. Both offerings prepare students for the Cisco Certified Networking Associate industry certification exam, which gives credibility to accomplishments and abilities as a networking professional. FTCC students spend at least 75 percent of classroom time performing hands-on activities that put into practice the concepts learned.
According to Glassdoor.com, the national average for salaries for network engineers is $76,970. Salary varies with location, experience and level of education.
Upon completion, FTCC students will be ready for an entry-level opportunity in the networking field and be on their way to a rewarding, lucrative career.