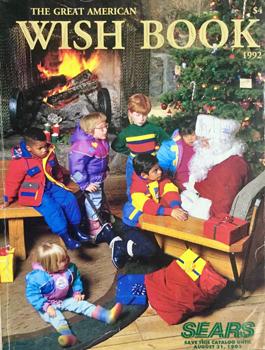 It seems like yesterday that, around this time of year, I was the most excited kid in the world. I would, not so patiently, wait on the J.C. Penny, Montgomery Ward and Sears Christmas catalogs to come out. I meticulously made my Christmas list and marked every page so that Santa would not miss what I wanted.
In the 1960s, those catalogs had everything in them. They had clothes, car parts, sports equipment, music equipment, guns (yes, you could order a firearm from Sears), and a few pages of motorcycle accessories.
For many, those catalogs were the spark that fueled the engines of our dreams and adventures. As a child, I would look at the tricycles, bicycles, mini-bikes and go-carts. Bikes in those days had style and personality to them. They had everything from a real gear shift to a circular steering wheel, sissy bar, chopper extensions, banana seats and so much more. The toy section challenged me to be a cowboy, a soldier and an astronaut.
Montgomery Ward went out of business in 2001 and is now an online company. Sears is almost a thing of the past, and J.C. Penny still struggles with market shares.
In 1993, Sears discontinued its big Christmas catalog. These major brick-and-mortar stores will say they cannot compete with the internet, Amazon and eBay. On the surface that seems logical, but people still want that excitement of actually shopping, seeing and touching an item.
Today, instead of finding my dreams in a Christmas catalog or finding everything in one store, I go to specialty stores. For local motorcyclists, between Fort Bragg Harley- Davidson and Baker American Cycles, you can find about 80 percent of the motorcycles on the market.
The economy is on the upswing, and more people have more jobs than ever before. However, interest rates are going up. They still are not that bad, but they are expected to rise to hold inflation down. So, if you want to blow your loved one away this Christmas, take a surprise trip to the motorcycle shop and help them pick out a brand-new motorcycle or ATV.
Trust me. Even if they are paying for it, your permission will earn you more cool points than you will ever know.
As for accessories, I think that part of motorcycling is struggling. Motorcycle industry shows have declined over the past 10 years. At motorcycle industry shows, vendors used to bring their new ideas to the public and market, hoping for that big deal. With the shows going away, that means vendors do not see a big enough profit to make it worthwhile. That is why, when you go to so-called motorcycle shows or rallies, you see the same thing over and over: T-shirts, leather and tattoo artists.
Cycle Gear on McPherson Church Road is the best place to see a variety of gear and accessories. The prices are competitive, and the staff has always been friendly to me.
Of course, Fort Bragg Harley- Davidson has all things Harley- Davidson related. The other local shops have limited merchandise and inventory. There are so many choices, sizes, and types of gadgets that it's probably not worth the return for most stores to carry everything.
So that leaves you with the internet. If I have to buy motorcycle equipment online, I turn to RevZilla.com. They have great videos for most of their products, and so far, they seem to be honest on the pros and cons on their reviews. They also have a great return policy. Always check return policies before any internet purchase.
I love our local motorcycle shops, though, and I try to buy locally. You might find a better deal somewhere online, but I don't mind paying a little more to keep our businesses here. I don't mind paying a little more to have someone I can talk to in person or who can make recommendations that improve my riding life.
I hope everyone has a happy holiday season. Merry Christmas to all, and to all a good night.
If there is a topic that you would like to discuss you can contact me at motorcycle4fun@aol.com. RIDE SAFE!