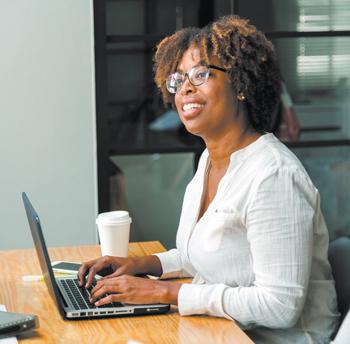 Fayetteville Technical Community College offers the computer programming and software development degree as a concentration under the information technology major. This curriculum prepares individuals for employment in computer programming and related positions through study and application in computer concepts, logic, programming procedures, languages, generators, operating systems, networking, data management and business operations. Upon completion of the program, students receive an associate's degree in computer programming and software development and will be well-equipped to enter the growing field of software development.
Alumni of this program have gone on to work for entities, including the city of Fayetteville, Cape Fear Valley Hospital, Cumberland County Schools and local defense contractors.
The computer programming and software development department will offer two new certificate programs beginning in 2019. The first certificate program, Data Analysis using SAS, will introduce students to the concepts and practices necessary to analyze big data sets and develop real-world applications.
The SAS Corporation is a world-leading business analytics software company located in Cary, North Carolina. SAS develops its own proprietary software and is consistently ranked as one of the top employers among technology and software development companies.
The second certificate program is Creating iOS Application using Swift. Swift is the primary mobile application development language of Apple, the developer of the iPhone and iPad. Students will learn concepts related to mobile application development needed to create basic applications for the iPhone and the iPad.
Fayetteville Tech offers a broad range of programs of study leading to the award of associate degrees, certificates and diplomas. Many educational choices are available in the field of computer and information technology, where graduates can seek employment as designers, developers, testers, support technicians, system administrators, and programmers. Specialty areas include business intelligence, database services, healthcare informatics, security and more.
Specific program areas to explore at FTCC include CISCO networking academy, computer programming and software development, cyber defense education center, database management, digital media technology, game and interactive programming, network management, PC support and services, systems security and analysis, and simulation and game development. Within each of these program areas are additional specialty programs of study, which allow students broad choices for expansion in becoming well-equipped for a great career in the computer technology field.
For students interested in pursuing an exciting career in a high-demand field, FTCC is a wise choice for education in computer and information technology. Spring semester begins Jan. 14, 2019.
Visit www.faytechcc.edu to apply now and begin the enrollment process.
For more information about the program, visit www.faytechcc.edu/academics/computer-information- technology-programs/computer-programming- development. Call 910-678-8571 or email camerona@faytechcc.edu with questions about pursuing computer programming and software development education at FTCC.
With over 250 curriculum-level programs of study to choose from leading to an associate's degree, certificate, or diploma — plus a wide range of continuing education programs to choose from — FTCC is the smart choice for education.