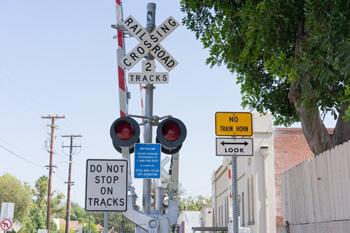 I had to laugh at all the crazy comments flooding social media about wanting to silence the dozens of trains that pass through our community every day.
Some people love it, some hate it, and some just don't pay any attention to the trains anymore. They have gotten used to them. Ahhh! Urban living.
I'm sure few of the people complaining one way or the other have ever lived in or spent the night on Wabash Avenue in downtown Chicago, Illinois. There, you constantly hear the rattling and clanging of the Chicago Transit Authority's rapid transit system, the Chicago "L" (short for "elevated"). The "L" is Chicago's primary mode of urban transportation, and, with a top speed of 55 miles per hour, you can bet it makes a lot of noise starting and stopping.
I grew up in downtown Pittsburgh, Pennsylvania, at a time when electricpowered street cars were the main mode of transportation. Talk about noise! To this day, I can still close my eyes and see the sparks flashing rainbow colors off the electric powerlines. I can hear the clanging of the warning bells and the screeching of metal on metal as the street cars came to a notso- subtle stop. It happened all day and all night.
So, it's hard for me to take all those social media comments seriously. Besides, who takes social media comments seriously anyway? Social media has a Wild West mentality where people can write anything regardless of the truth or facts. The mantra often seems to be, "Fire, ready, aim."
That pretty much describes all the hullabaloo over District 2 Councilman Dan Culliton's suggestion that the city consider "quiet zones" downtown and get the good folks at the railroad to stop blasting those obnoxiously loud air horns as they come through our fair city. Sure, the blasts are for safety, but sometimes it sounds like the engineers at CSX may be having a little too much fun at our eardrums' expense.
People on both sides of this issue are opinionated. It would be nice if that much energy and passion could be directed toward annexing Shaw Heights and bringing consistency and muchneeded services to the poor and underserved in that community.
Well, the train horn issue will be around for a long time. It is too early to waste intellectual energy on an issue like "quiet zones." Besides, this issue will take care of itself in good time. After all, have you noticed no one has mentioned how much it will cost to comply with the state and federal regulations to convert our downtown railroad crossings to gated, railroad-safety approved standards?
My guess? Hundreds of thousands, if not millions, of taxpayers' dollars. That's one sound no one is going to like hearing. Then the controversy will be — you guessed it— who is going to pay for it!
Stay tuned. This is going to get interesting. I would love for Fayetteville to have quiet zones, tranquil days and peaceful nights. But where will the money come from? Someone needs to do a cost-benefit analysis. If this is the way we go, fine. But, add it to our already long list of citywide priorities, and let's see where it fits in.
Regardless, I really like the way Culliton thinks. He's attentive to what's going on in his district. He's respectful to his colleagues and constituents. He's out there doing his job — and that's pretty impressive. That's leadership and something you can blast your horn about.
Stay tuned.
Thank you for reading Up & Coming Weekly.