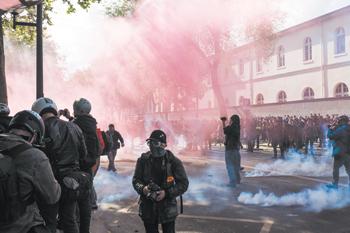 My wife, Deb, and I were having a discussion this morning and she reminded me of an old cliché that I hadn't heard in years. "If you're going to make an omelet, you have to crack some eggs." I felt this saying to be appropriate for my article.
It surprises me how isolated the American people are to what is happening globally. Here in the U.S., President Trump is considered the No. 1 egg cracker. He is tough, and his style parallels that of Andrew Jackson. Jackson's style was referred to by many as the "populist laissez-faire." Middle America loved him, and the urban elitists despised him. Sound familiar?
The fact is, Europe has led the way in the global populist movement. This movement has been fully entrenched in the United Kingdom, Italy, France, Germany, Netherlands, Belgium, and let's not forget Greece. The similarities for all these countries have been the issues of immigration, taxes, trade and ultimately, cost of living. Any of that sound familiar?
British Prime Minister Teresa May's days appear to be limited as her negotiation regarding Brexit — the U.K. leaving the European Union — likely will not pass the parliament. A decision must be made very soon on the agreement because on March 29, a hard Brexit is set to take place. This could prove devastating to the U.K. economy. One of the toughest issues in her negotiations with the EU was an open border with Ireland. You see, Ireland is part of the EU. Northern Ireland is considered part of the British Isles, and this is a huge issue for the UK.
In Italy, the trouble has been immigration as well as budget disagreements with the EU. The 5-Star Movement, a political party, is well organized and has teamed up with other groups to seize control of Italy's legislative body. As a result, Parliament is now controlled by the populists. They are not likely to bow to EU demands.
A few weeks back, all eyes were focused on France as Macron called up nearly 89,000 police officers to bring an end to the civil unrest. Riots broke out after Macron attempted to increase the gas tax, bringing gas prices to more than $7.90 a gallon — all in the name of global warming. The unrest continued after he reversed his position on the gas tax increase. Now, the "yellow vests" — the rioters — continue their unrest due to the high taxes and the high cost of living in France.
Macron was elected in 2017 and his term is scheduled to end in 2022. Seventy-five percent of the population disapproves of his administration. I bet he does not serve his full term.
He has taken the torch from German Chancellor Angela Merkel, supporting a unified EU. Merkel just announced she will not seek re-election simply because she no longer has support of the people in Germany.
The issue in Germany has been immigration. One of the cornerstone policies of the EU is open borders among its members. As a result, there has been a huge influx of Muslim refugees into Germany.
The borders have closed, but not before a million Muslim refugees made Germany their home. Most of these refugees are uneducated, and most Muslim women are not allowed to work. Medical centers and hospitals are being swamped to meet the medical needs of these refugees — who have no means to pay.
The German citizens have had enough. Hence, the fall of the Merkel dynasty.
The Netherlands appears to be a carbon copy of Italy. The populist movement is led by Geert Wilders. He was the founder of the Partij voor de Vrijheid, or PVV, party. Currently, it is the third-largest party in the Netherlands. It was instrumental in keeping Prime Minister Mark Rutte in office. Immigration was the No. 1 issue for the PVV, and now it has focused on the EU deficit reduction plan. The PVV has clearly focused its attention on Brussels, home of the EU headquarters, as well as the European Central Bank.
The Belgian populist movement has gained traction under the leadership of Steve Bannon of Breitbart. Bannon was a trusted adviser for Donald Trump.
The populist movement is a global phenomenon that started years before the election of Donald Trump. Concepts of secure borders and bilateral trade agreements aren't all that original. These same issues are coming to a head in Europe and have had an economic impact over all of the continent. Furthermore, these collective happenings have the potential to slow European growth to a crawl, and in some countries, the potential for recession is alive and well.
Populism is a grassroots movement that was born out of the struggles of the working class. I have written many times on the concentration of wealth, which is not just limited to the United States. As you can see, it has impacted the entire world.
If you're struggling to put food on the table and a roof over your head, it's hard to be worried about global warming. The last thing you need is a carbon tax on gasoline when it's already close to $8 a gallon. President Macron, take care of your people first.
Of course we want to lend a helping hand to refugees fleeing war and oppression — but only to the extent we can afford to do so. On our very own Statue of Liberty, it says, "Give me your tired, your poor, your huddled masses yearning to be free." A stone's throw away, we also have Ellis Island, where migrants were screened for serious medical issues. If medical issues were found, they were treated and deported back to their original countries. We couldn't risk the cost of spreading epidemics let alone the cost of medical treatment. The EU took none of these precautions, and it is paying the price.
As of this article's writing on Jan. 3, our government has been shut down for almost two weeks, and Nancy Pelosi was just voted in as speaker of the house. The issue, of course, is the wall and immigration policy. Only time will tell who blinks first. The point is, immigration is a global issue, and I, for one, believe our safety is the first obligation of our government.
So, Mr. President, continue to crack eggs and stir them up in that omelet. If we get a few shells mixed in, so be it. Continue putting America first, and rebuild its heartbeat. Bring our industrial base home and secure our borders. And, yes, drain the swamp.