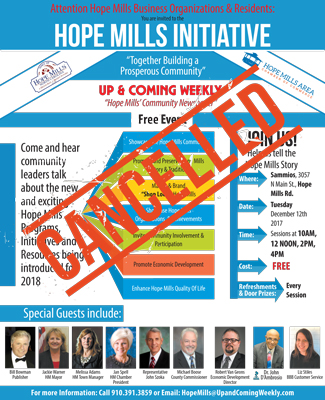 Publisher's Note: A special thanks to Ms. Blevins for finally explaining our side of the story about the $28,000 partnership Up & Coming Weekly had with Hope Mills. And, it had absolutely nothing to do with the money. Matter of fact, listed below are thirteen main objectives Mayor Jackie Warner, commissioners and Hope Mills staff wanted to achieve for the residents of Hope Mills.
The graphics below are from June 2017, when the Hope Mills Board of Commissioners initially heard a proposal from Bill Bowman, and from July 2017, when the Board voted unanimously to accept the proposal. But what exactly was the proposal?
What was presented as the Hope Mills Initiative was a collaborative effort between the Hope Mills staff, the Hope Mills Chamber of Commerce and Up & Coming Weekly publisher Bill Bowman. It was the result of a tremendous amount of work and research by key players in Hope Mills: Town Manager Melissa Adams, Interim Town Clerk Deborah Holland, Mayor Jackie Warner, Hope Mills Area Chamber of Commerce President Jan Spell, and the late Commissioner Bob Gorman, over many months.
Together they developed a program to "make sure local businesses have time tested, affordable and effective ways available to market, promote and advertise their business, goods and services. We will have open dialog with HM residents, providing them space to promote their events with a weekly up-to-date event calendar hosting local Hope Mills events and other relevant Cumberland County happenings. U&CW will also be providing editorial space for residents to contribute their thoughts and insights," said Bowman in his proposal.
It was heralded as a first tentative step toward developing a marketing strategy for the town with 13 distinct objectives.
Three formal discussions were held at Sammio's, and the public was invited to hear an impressive list of community leaders discuss the initiative.
The HMI was an opportunity for the citizens, businesses and organizations in Hope Mills to take control of the narrative and tell their story. And it was an opportunity to reach 300,000 readers in Cumberland County.
Bowman also offered advertising to Hope Mills businesses and organizations at drastically discounted rates to help jump-start economic development in our community. Mayor Pro Tem Mike Mitchell and Commissioner Meg Larson have been quick to reference the roughly $28,000 the town was spending on the project, but they've never mentioned the $14,000 Bowman spent to get the program started or that the agreement included him matching the town's investment and matching the costs for businesses who advertised.
And they certainly never mention the actual value of this program was conservatively more than a quarter of a million dollars' worth of marketing.
Before the initiative had really begun, it was in trouble. This Board was sworn in a week prior to the event at Sammio's. They balked at tasking the staff with writing articles, then balked at writing articles themselves. The initiative relied on a steady flow of information, so Bowman tasked his new sports writer, Earl Vaughan Jr., with covering Hope Mills.
Vaughan, who briefly lived in Hope Mills 30 years ago, immediately began building relationships with Hope Mills residents. He managed to plug into our community, familiarize himself with our history and stay two steps ahead of every story.
During the budget retreat March 3, 2018, the Board discussed the expense of the initiative and their alternatives. Ultimately, they voted 3-2 not to renew the agreement when it concluded on Sept. 6. Commissioners Mitchell and Pat Edwards voted against the motion. You can review the minutes from the meeting on their website, https://townofhopemills.com/agendacenter.
In the same feckless manner with which they dismiss staff recommendations, doing a feasibility study on the proposed walking trail and the expert opinion of the consultants they hire, they dismissed the HMI. They knew better than the dozen community leaders and the subject matter experts who designed the initiative.
By August 6, 2018, there was contention. Mitchell was displeased and made a motion to end the contract immediately. At that point, the municipality had already paid the agreement in full and there were already pending articles waiting for publication. Mitchell's motion passed, but it had no effect on the publication.
In fact, it continues to have no effect on the publication. Earl Vaughan Jr. began writing about Hope Mills in the early spring of 2018. He writes two to four articles a week, depending on what's happening and what sports are in season. He is a one-man marketing team for our town, promoting anything and everything that needs promoting.
Since Sept. 6, 2018, when the gentleman's agreement with Hope Mills ended, Up & Coming Weekly has published more than 60 positive articles about the town of Hope Mills, including advertising for 21 events; 13 mentions of local schools, teachers and students; 26 general information pieces; and no less than 11 profiles or mentions of local businesses.
These numbers don't include the nonstop coverage of local high school sports. They don't include the handful of stories that were published on the website but not in the paper. They don't include any of the articles I've written for Up & Coming Weekly, and they don't include the weekly calendar of Hope Mills events. A weekly calendar isn't published for any other non-Fayetteville municipality. In fact, no other municipality enjoys a dedicated section of the paper.
The truth is, Bowman never stopped the program he began with the previous Board in 2017. While this Board ignored the hard work of dozens of people and squandered the opportunity provided to them, Bowman quietly kept working. Bowman and Up & Coming Weekly no longer enjoy the benefit of a financial agreement with Hope Mills, but the town very much enjoys the benefit of Bowman's generosity.
In an Aug. 10, 2018, radio interview on WFNC 640 AM, Mitchell said, "We basically said — on the last Board meeting — I just asked all media if they would report some balanced reporting — ask both sides their opinions about things — they would have a better outlook on Hope Mills and be in a more positive manner — you know — you're not gonna accomplish anything by printing all this negative news — has a lot of misleading facts — that aren't facts at all.
"And the fact that we cancelled the contract with this publication about 3-4 weeks ago — it loses — that publication loses credibility when they make such negative comments when they're 'tooted' as a positive magazine. ... There's a whole blog dedicated to the destruction of Commissioner Larson and myself and there's some politics played in there.
"It kinda loses credibility when we've cancelled the contract and then they come back — it's almost retaliatory in nature." The transcript is available at https://hopemills.net/2018/08/25/we-are-one-team/.
Mitchell also said, "If you wanna give one-sided views that's not reputable — also we did not renew your contract in September for $28,000 a year. In the general public's eye, everything you're doing is vindictiveness," on March 25, 2019. The audio can be heard at www.youtube.com/watch?v=cRPjk79T0Cc&feature=youtu.be.
And the commissioners still complain. Beginning in August, when Larson and Mitchell were on a local talk radio station, and as recently as the March 25 meeting, Mitchell declared Bowman was simply being vindictive because he was angry the Board cancelled the contract.
It was never simply a contract. It was a partnership conceived of and implemented by some of the most impressive leaders in our community. And it was another golden opportunity missed by this Board because they choose at all times to dwell in innuendo and conspiracy theories.
Bowman and I were both at the March 25 meeting. We were prepared to address the Board. But they used their elected seats as a pulpit from which they condemned us without ever giving us an opportunity to speak.
If Bowman was vindictive, Vaughan would have been reassigned months ago and Hope Mills wouldn't have dozens of articles announcing its events and promoting its businesses. The Board chose not to pay to participate in the Pocket Guide published by Up & Coming Weekly several months ago, but Bowman waived the fee and included a small section for the town anyway. Does that sound like the actions of a vindictive man?
I won't speak for Bowman's articles, but I will tell you the articles I write are designed to mirror the Board's actions. When they've done good things, I've reported that. Unfortunately, so little of what they do is good.
This situation, like so many others in recent months, has been misrepresented by members of the Board to defend their wretched behavior. While they hurl accusations our way, they're free to continue misbehaving. We are their red herring.
Visit www.facebook.com/media/set/?set=oa.2054544537974961&type=3 to see more information about the Hope Mills Initiative, Larson's comments about Up & Coming Weekly, screen captures from the meetings and more.