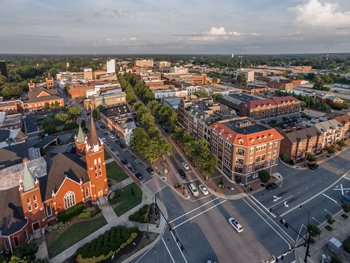 With designators that range from "Fayettenam" to "America's Hometown: History, Heroes, A Hometown Feeling," Fayetteville's story is a rich and colorful tapestry. It includes heroism and tragedy, darkness and light and all the shades and colors in between.
And this community's journey continues forward. Polls and surveys from outside sources and their wacky metrics and logarithms can throw down whatever claims, ratings and analytics suit their fancies. When it comes down to it, they don't know Fayetteville.
They don't feel the pulse of the crowd when the Dogwood Festival is in full swing. They don't feel the sense of community and empowerment the International Folk Festival and A Dickens Holiday foster. They don't come and dance on the promenade at Fayetteville After Five concerts in Festival Park or savor the flavors of the culinary genius that prospers here — in food trucks and in restaurants and at the many farmers markets that dot the landscape.
Sure, statistics tell a story. So does compassion, innovation, hard work and inspiration. Fayetteville has all that in spades — and it doesn't always register on an analytics scale. But it does bring flavor and personality to this international city that so many choose to call home.
People who don't live here often have no idea about the talented performers and firstrate theaters and music organizations that call the Sandhills home. They don't see the generosity of the multitude of nonprofits here. They don't know Fayetteville. And they don't get to define her or tell her story to the rest of the world. Why would we give them that power?
It's time for people actually living and working here to own this community's narrative, to speak the truth and project it out into the world with pride and confidence. Stop trying to outrun decades-old reputations and fallacies. Stop accepting false information from out-of-town number-crunchers looking for search engine page rankings.
Fayetteville is undertaking a new initiative to come up with a branding strategy that accurately reflects the goodness that resides here and tells the true story about the opportunities here. This isn't about a new logo or a new motto. This is about defining what makes this place special and telling this community's story.
The Fayetteville Cumberland Collaborative Branding Committee is taking the lead in the effort. It consists of representatives from the city of Fayetteville, Cumberland County, the Cumberland County Tourism Development Authority, Crown Complex, the Greater Fayetteville Chamber, the Arts Council of Fayetteville/Cumberland County, Fayetteville Area Convention & Visitors Bureau, Vision 2026, Cool Spring Downtown District and the Fayetteville Cumberland County Economic Development Corporation.
The first step in accurately telling any community's story is to gather information. That's where we are in the process. The branding initiative wants to hear from you. Tell the committee what you think, what you want and what matters to you. This community's story is your story, too.
Visit www.brandingfcnc.com and take the branding survey. It only takes about 15 minutes, and it covers just about every aspect of life in Cumberland County that you can imagine. Be brutally honest. This is our chance to not only counter the misinformation but to shape the future.
Thank you for reading Up & Coming Weekly.