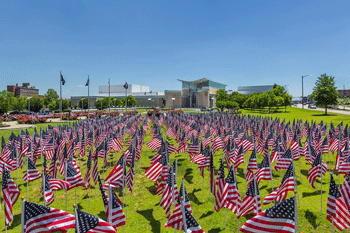 I recently stood amid hundreds of American flags placed in memory of men and women who answered the call to serve this nation. I made my way over to a man in a Rolling Thunder vest and asked for his thoughts on the importance of the local display known as the Field of Honor. "They say everyone dies twice. Once when we die physically," he said, "and again when people stop talking about you."
My dad didn't talk about his military service very much. In the summer of 1941, he lied about his age to join the U.S. Navy without his parents' permission before his 18th birthday. The Second World War was just getting started in the Pacific and, like many other American boys, he was anxious to do his part. Classified as a pharmacist's mate, much of his 16 years of service were spent as a more necessary combat medic with the Marines.
Much of what I learned, I gathered from a friend my dad served with, Henry Hornak. We had visited Hank and his wife, Dottie, in West Virginia when I was in my teens, and I had called him years later to hopefully fill in some blanks after my dad's passing in 1981. "Your dad saw some awful things in the war," he told me. "Most of his memories probably weren't good ones. I'm glad to share some of those that were."
We just celebrated Memorial Day in the United States. The holiday is often regarded as the beginning of summer more than a time to remember those who stood in the gap for the oppressed across the globe. My thoughts wander to people like my father, to the courageous stand they took and the friends they left behind. He would go on to lose his first son to the war in Vietnam, a kid whose name I have photographed or rubbed off the Vietnam Veterans Memorial Wall on more than one occasion, but whose face I can't recall at all.
The Airborne & Special Operations Museum in downtown Fayetteville is a great place to remember. And it's a fitting place for conversations with others who remember. The adjacent North Carolina Veterans Park and nearby memorials afford visitors many spots to pause and reflect, and whether or not you or your family is represented in any of the impressive displays, a visit will surely stir a sense of pride and awe for the collective good some of America's most honorable men and women have accomplished on our behalf.
The Field of Honor is a good place to start. The moving and colorful display will be in place until June 27. You can sponsor a flag in honor or memory of someone you know and love by visiting the ASOM gift shop or the website, www.asomf.org. Flags are folded and offered to their sponsors concluding the display and can serve as a fitting tribute in the home of America's finest families.