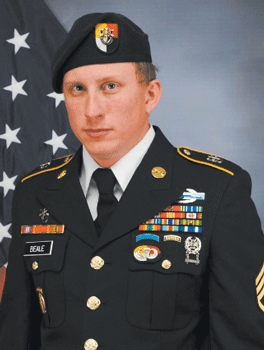 On June 1, Brothers For Brothers will honor Sgt. 1st Class Joshua "Zach" Beale, 32, who was killed Jan. 22, in Uruzgan Province, Afghanistan, while conducting combat operations. Beale was assigned to Operational Detachment Alpha 3123, 3rd Special Forces Group (Airborne), Fort Bragg, North Carolina.
The June 1 event is a poker ride that will start at Charlie Mike's, 195 Star Point Dr. in Fayetteville. Stops along the way will included PK's Grill & Pub, 155 Airport Dr., Raeford; The Dog House, 3049 Owen Dr., Fayetteville; Legends Pub, 4624 Bragg Blvd., Fayetteville; and a return to Charlie Mike's.
Registration begins at 11 a.m. The first bike will leave Charlie Mike's at noon, and upon the riders' return, food will be served at 4 p.m. The fun will continue at 4:30 p.m., to include the Best Poker Hand, Worst Poker Hand, a three-gun raffle and a 50/50 drawing. There will also be an auction.
All proceeds will go to the Special Forces Charitable Trust. The SFCT is a 501(c)(3) charity that provides meaningful and sustainable support to the families of our Green Berets. The SFCT supports timely, innovative and comprehensive programs and services designed to enhance the wellbeing and health of both the Special Forces soldier and his or her family.
The 3rd Special Forces Group (Airborne) is a home to heroes. The group has seen extensive action in Afghanistan, Iraq and Africa. The men of the 3rd SFG have received two Medal of Honors, 56 Silver Stars, 183 Bronze Star with valor devices, and 239 Army Commendation medals with valor devices.
If there is a topic you would like to discuss, you can contact me at motorcycle4fun@aol.com. RIDE SAFE!
Photo: Sgt. 1st Class Joshua "Zach" Beale