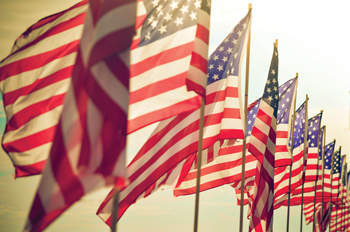 Editor's note: This piece first ran in Up & Coming Weekly on June 26, 2017. As we approach Independence Day, it's fitting to recognize those who have embraced the liberties we have here.
Gregory Gorecki was a young boy living in Poland when the Germans invaded in 1939. Even as his country was ravaged and the unspeakable became his reality, young Gregory's spirit yearned for freedom. By the time he was a teen, the Russians ruthlessly ruled his homeland, quelling ambitions and crushing dreams in the name of socialism. He was bright and ambitious: a trapped bird ensnared in a world void of freedom and personal choice. And freedom was all Gregory wanted, really — freedom to be the very best version of himself.
Gregory's days were filled with hard work and drudgery. At night, he and his brother plotted their escape and dreamed of better days. They quietly planned for every possible scenario, vowing that one would not leave without the other. They knew their departure would mean hardship and government retribution for their loved ones and that consequences would be harsh should they be found out. The years passed, and Gregory became a physical therapist.
Freedom presented herself to the Gorecki brothers in 1960 at the Summer Olympics in Rome. They'd been approved to travel to the Olympics with the Russian competitors. Gregory and his brother were in their 40s now and well-established professionals. Without a whisper to their colleagues or even a parting message for their loved ones, they reached for Lady Liberty's hand and never looked back.
The two hopped a train to Vienna and made their way to America only to learn their Soviet training and credentials were meaningless. Gregory had to start over. And he did. With great success. Only this time, it was on his terms. He built his physical therapy practice to his standards and settled in the San Francisco Bay area. He not only helped those in need; he also brought jobs to his community. He traveled. His kitchen was filled with the freshest produce, the choicest cuts of meat, the finest liquors. He embraced and embodied everything great about the American dream. He came with nothing and worked hard. He never said no to an opportunity — even the exhausting and ugly ones. He faced adversity, fought the odds that were so greatly stacked against him and found success. Happiness. Freedom.
Gregory's daughter is my best friend. We've spent countless hours pondering what makes him tick. What drove him to reject everything he knew — even success behind the Iron Curtain — in favor of chasing a dream? Why was he willing to risk everything he'd built to embrace the unknown? How could he have been sure that freedom would taste so sweet?
Gregory and millions like him remain a powerful example of the very best of this experiment we call America and of all she has to offer. His passion for personal freedom and his drive to succeed and give back to the country that removed his shackles are what fuel the American Dream. He heeded the call to freedom and took seriously the responsibility that comes with it.
This great country is filled with people like Gregory. As we prepare to celebrate America's birthday, this seems the perfect time to give a nod of deep respect and appreciation to them — those who invested in a dream and did the hard work to make their lives and our country better.
To the rebels, the risk-takers, the entrepreneurs, the dream-chasers, the laborers, the scholars and everyone else who loves and has loved this country enough to give beyond themselves to keep the American Dream alive, and to those who fought and died defending it, thank you.