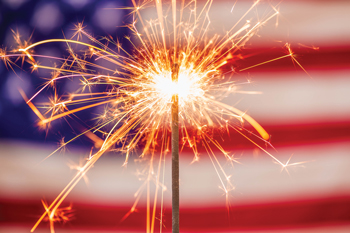 To Americans, our National Mall in Washington, D.C., is a sacred space.
A vast tract of urban open space running almost two miles between the U.S. Capitol and the Lincoln Memorial, the Mall is where we take our children, both literally and through pictures, to teach them about George Washington, Thomas Jefferson and Abraham Lincoln, about World War II and the Vietnam conflict, about our national culture as told in museums featuring American history, American art and the American fascination with air and space. It is where we sit quietly beside the reflecting pool to ponder what it means to be an American and how blessed we are to be part of the greatest ongoing experiment in democracy the world has ever seen.
On most days, the National Mall hosts tourists taking in the sights, joggers in their regular runs and frisbee players out for a fun afternoon. Last week, on the Fourth of July, though, the Mall became a visible metaphor not so much of the United States of America as of a country whose people are sharply divided.
Americans on the Mall that day represented two distinct camps.
At the Lincoln Memorial end of the mall, Donald Trump treated his Trump MAGA-attired supporters and VIP donors to what he billed as a "Salute to America," a program awash in both patriotic themes and rain. Trump is the first president to address a Fourth of July celebration in almost seven decades, and he topped off the occasion with a taxpayer-funded fly-over by American military war planes. Tanks and other asphalt-crushing heavy equipment were corralled on the sidelines in case spectators wanted to take a gander. There were chants of, "Four more years!"
At the Capitol end of the mall, other Fourth of July celebrants enjoyed more traditional Independence Day entertainment, including music by Carole King and the National Symphony Orchestra, a visit by some Muppets, and fireworks as the sun sank into the stormy horizon. These folks were doing what many Americans do on the Fourth, complete with blankets — some of them soggy — and picnic hampers. The New York Times reported that a woman heading toward the concert stand carried a sign reading, "Fight ignorance, not immigrants."
Such is the state of our nation in 2019. If there is anyone who does not have an opinion of Donald Trump one way or another, I have yet to meet him or her.
There are as many reasons for our national divide as there are Americans, and most of those reasons are valid. We have arrived to this distressing state of affairs over time through — in no particular order — increasing globalization both in trade and in culture, extreme gerrymandering making our votes less meaningful, a widening and gaping economic gulf between the haves and havenots, demographic evolutions well underway that threaten some among us, ongoing educational inequities, racial polarization, urban-rural disparities, a paralyzed Congress and on and on.
The Trump fans and the concert-goers at opposite ends of the national mall on a rainy Fourth of July provide a powerful visual of the state of our nation.
Zealots on both ends of the Mall, literally and figuratively, are entrenched in their positions and brook no discussion with others with differing views. More thoughtful people on both sides are deeply concerned about the future of our nation. Significant books of warning have been flowing from publishers' presses just in the last two years, among them "How Democracies Die" by Steven Levitsky and Daniel Ziblatt, "This America: The Case for the Nation" by Jill Lepore, "Fascism: A Warning" by Madeline Albright, "The Soul of America: The Battle for Our Better Angels" by Jon Meacham, and many others.
Each has its own take on what is happening in and to our country, but all are sounding national alarms. We Americans would do well to listen.