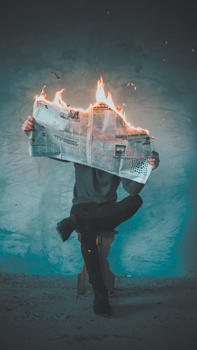 They're on television. They're on the radio. They're in our magazines, news papers and even online.
The "lynch-mob media" strikes again! ... And again. ... And again.
With so many treacherous issues going on in the world, why do so many news outlets choose to weave repeats of, for example, six-second video clips of someone famous doing something illegal, and basically demand their boss be fired, amongst larger, more important, fact-driven world issues?
This is a complex subject. Maybe the purpose was intended to make the news consumer feel as though there are newsworthy subjects that they can actually control the outcome of. Regardless, we, as broadcasters in any realm, have the responsibility to present the facts of what is happening in the world, and even to report the goings-on in the entertainment industry. However, there has been an increase in our media's "lynch-mob mentality," setting fire to the image and reputation of any accused person before they've even stepped into a court room for a judge and a jury to decide their guilt or innocence.
This is not why we exist as broadcasters. This 'lynching by media' is quickly becoming the new way that assumed perpetrators (or the people in charge of them) are being dealt with. Apparently, there is no better system in place than to have a bunch of journalists deciding which person or company is evil and deserves the 'Queen of Hearts' treatment — "Off with their heads!" There are enough horrific things going on in our world — wars, rumors of wars, terrorism, the deaths of innocent people, dictators rising to power, nuclear threats, even beheadings. Someone has to pay, and apparently its our job as broadcasters to convict and demand resignation.
I feel that someone has the responsibility to apologize to you, news consumers. I give you my sincerest apology for the news media's public lashings and constant backing of biased, negative news reports calling for someone's head on a platter. Its almost all we can do to keep our heads above the noise. So, what can you do to help us?
Choose light. Choose life. Choose to find the positive in the midst of media lashing. Difficult? Maybe. But be assured you can find the roses among a garden of thorns. There are news outlets, even here in your own community, that strive to bring light to the darkness some media create in "lynching" those involved in the latest trending social issue. We highly value our relationship with Up & Coming Weekly for this reason. We both choose to promote the good things in life — the arts, family, education, our community, local businesses — the list goes on.
So here's where you can start on your search for light in the media — check us out. We promise we will always deliver positivity, truth and a helping hand as we strive to "Keep the Main Thing the Main Thing" — namely Jesus Christ, and his message to bring light and life to a world in need.
Despite the overwhelming presence of the "lynch-mob media," positivity can still be found in the media when Jesus Christ is as the center of it. Photo by Elijah O'Donnell on Unsplash