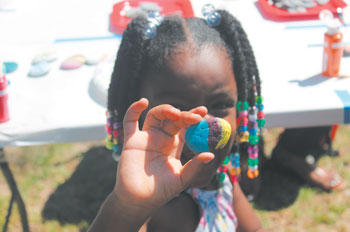 Publisher's Note: There's always something to do in Cumberland County! This past week was a perfect example of the diverse activities that are happening. We have theatres, festivals, car shows and even events celebrating the accomplishments of service organizations in our community. The Vision Resource Center, over the weekend, brought the community together in Downtown Fayetteville to thank them for their support and to raise money for the continuation of their relentless service to our blind and sight-impaired population. This kind of activity is popping up all over the county. I am yielding my space to Earl Vaughan, Jr. who has discovered an emerging cultural organization in Hope Mills. Their projects are aimed at enhancing the arts and cultural awareness in Hope Mills as well as the quality of life for its citizens. Without a doubt, Hope Mills ROCKS! Thanks for reading Up & Coming Weekly.


It could be said that the Hope Mills Creative Arts Council is off to a rocky start. Fortunately, it's in a positive way.

The newly created arts council recently got the help of a couple of local Girl Scout troops to introduce itself to the Hope Mills area and recruit more artists and volunteers to grow the organization.

This past weekend, the council held a rock-painting event to create miniature works of art that will be given away at the upcoming Ole Mill Days at Hope Mills Municipal Park.

"We were trying to come up with something we could do to announce our presence and be a small part of Ole Mill Days,'' said Elizabeth Blevins, executive director of the council and a contributing writer to Up & Coming Weekly.
"We have a small budget so we invited Girl Scout troops to come paint rocks,'' Blevins said. "Painting them and hiding them in parks is a big thing at the moment.''

The arts council provided the Girl Scouts from troops 1147 and 2147 the rocks and the paint to create the miniature art works.

Blevins said the council has also teamed up with other civic organizations that will work with the members of the arts council the night before Ole Mill Days on Saturday, Oct. 5 and hide the rocks around Municipal Park on Rockfish Road where most of the Ole Mill Days activities will be held.

"They will be able to find the rocks and this will let them know we are there,'' Blevins said.

The public is welcome to keep the rocks or hide them again for someone else to find at a future date.

Blevins said one of the rocks she'll be hiding was one she and her husband Jim found during a recent visit to Calabash. "Sometimes it's about moving them from place to place, the joy of having found them and being able to distribute them,'' she said.

For further information on the Hope Mills Creative Arts Council, visit its Facebook page of the same name. The staff is working on a website and will provide the name of it on the Facebook page as soon as it's available.

"We are always excited to hear from artists, musicians, performers, volunteers and people who just want to be involved,'' Blevins said.

To contact the group directly, email to hopemillscac@gmail.com or call Blevins at 910-853-4539.