In Munich, Germany, Oct. 6 marked the end of one of their oldest and most celebrated traditions, Oktoberfest. However, at St. Patrick Catholic Church on Village Drive, last Sunday's celebration of Oktoberfest marked over four decades of food, fun, frolic, music and be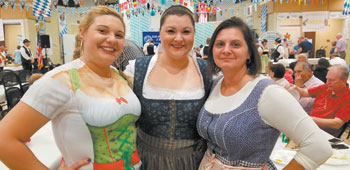 er — lots of beer, sauerkraut, potato salad and sausages. All Bavarian-style. This annual event, hosted by the St. Pat's Knights of Columbus organization, is a major fundraiser for the church. Traditionally, Up & Coming Weekly rarely writes about programs and events that have already taken place; however, this event was special and so impressive I felt impelled to make an exception and advise our readers to put it on their calendars for the first Sunday in October 2020.
I guess with this event coming on the heels of the Fayetteville Greek Festival and the International Folk Festival, it made me cognizant and appreciative of our incredibly diverse community.
Knight Fred Cutter was the chairman of this year's festivities, and he and his committee went to the far extreme to capture the authentic ambiance and culture of a true Bavarian festival, right down to the decorations, food, music and costumes. Surprisingly, many in attendance dressed in traditional Bavarian attire; the men wore lederhosen, and the ladies wore colorful dirndls — pronounced dern-DULL — which is an ensemble that includes a blouse, skirt and apron. The music was exceptional. Throughout the evening, attendees marched, sang and danced to the Little German Band and Dancers out of Raleigh. They were quite talented, performing songs, waltzes and polkas from the Bavaria region of Germany that energized and electrified the audience. The German word "Gemütlichkeit" describes a state of belonging when being surrounded by good friends, with good music and good times.
So, nothing to do in Fayetteville? What nonsense. There's plenty to do here. And, the best common denominator all these community events and venues have is the people themselves. We encourage everyone to get involved and get to know our residents and our community. St. Patrick's Oktoberfest is only one example of the excellent events that define our unique community.
Thank you for reading Up & Coming Weekly.
St. Patrick's Catholic Church on Village Drive celebrated Oktoberfest this past Sunday with a fun family affair.
Picture 1, L-R: Lia, Lexie and Yiotta Hasapis