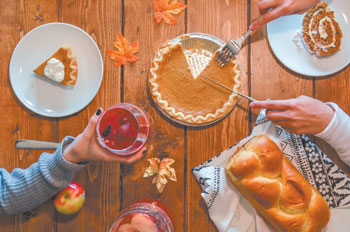 It's the most wonderful time of year — the full-blown eating season. The sun has disappeared due to the end of daylight saving time, leaving us in the dark at 5 p.m. Entering the depths of darkness, what is better at chasing away November's gloom than overconsumption of calories? It is better to eat a candle than curse the darkness. Fortunately you don't have to eat candles in Fayetteville. Seasonal food is all-around you.

Today's lesson will attempt a road map of what and where to eat. Locally, the eating season begins with the Gray's Creek Woman's Club dinner on the grounds in mid-October. If you have never been to this excellent event, go next year. It is a symphony of fried chicken, country ham, chicken and pastry, more country-style vegetables than you can shake a stick at, homemade desserts and an infinite variety of deviled eggs. As an added bonus, you can buy a chance to win the world's best homemade quilt. I have been attending this fine event since 1978 when I first darkened the door of the Cumberland County Courthouse as a young lawyer. Young no more, but still able to darken a door, I give this elegant country cooking event five stars.

Next up on the eating agenda is the World's Largest Spaghetti Supper at the Saints Constantine and Helen Greek Orthodox Church. This is one of the true highlights of the eating season. The 61st edition of the spaghetti supper occurs Nov. 20, which coincidentally is the date of the publication of this issue. Read this column, and then go buy a bunch of boxes of spaghetti. Not only will you get the world's finest spaghetti, but you can purchase the best Greek pastries in the universe. It is also the opportunity to see some of the hardest working people in the world slinging spaghetti and baklava.

Which brings us to the grand-daddy of all eating events — Thanksgiving. It's time for the annual food coma. There's turkey, dressing, gravy, cranberry sauce, mashed potatoes, sweet potato casserole, rolls, pies, cakes, adult beverages and, last but not least, relatives and friends sitting around the groaning board discussing topics both tame and inflammatory.

As nowadays everyone agrees on almost everything, conversation around the dinner table may lag when the turkey bloat sets in. To keep folks awake and engaged with relatives they see once a year, toss out some of these verbal stocking stuffers to get the conversation started and opinions on full boil. It is guaranteed if you bring up at least three of these topics, you will not have to buy as many Christmas presents for your relatives after these discussions — as you won't be speaking to each other. It's fun and thrifty, too!

Go ahead. Try it out. Before the pumpkin pie is served, blurt out your version of the conversation topics below: 1. Donald Trump is the greatest/worst president we have ever had. Anyone who disagrees with me is a poopy head. 2. Melania Trump is the classiest/strangest first lady in American history. 3. Adam Schiff is a pencil necked geek/ American patriot who is trying to oust the savior of American democracy through a sham impeachment process/ save America from a moron ignorant of the Constitution. 4. There is/was no collusion. 5. There is/was not a quid pro quo. 6. The phone call to the [president of Ukraine was perfect/a sleazy attempt to root out corruption/get dirt on Joe Biden. 7. Dook basketball is the greatest/most overrated program in the history of round ball. 8. Coach K dyes his hair with black shoe polish. 9. Elizabeth Warren is going to save/destroy the American health system. 10. Bernie Sanders is too old/radical/cranky/white to be president. 11. If Joe Biden is elected president, it will be illegal to say "Merry Christmas." 12. Black mold is good for you. 13. More teenagers should vape because it makes them sophisticated and keeps them off heroin. 14. Climate change is a Chinese hoax sustained by fake news of heat waves, fires, melting ice caps, floods, giant hurricanes and drowning polar bears. 15. Mom always liked me the best. 16. Russia is our best friend.

17. Formaldehyde is good on pancakes. 18. Gravity is not just a good idea, it's the law. 19. The pepperoni pizza is nature's perfect food. 20. If life were more like the Hallmark Channel Christmas movies we would all be much happier and healthier. 21. Sean Spicer should have won/ been ashamed to be on "Dancing with the Stars." 22. Hillary Clinton was robbed/ the devil's spawn. 23. Democrats/Republicans/Independents are in league with the devil.

24. Air travel during the holidays is more relaxing than ever. 25. It's lots of fun until somebody shoots their eye out with an official Red Ryder carbine-action 200 shot range model air rifle.

Let the eating begin. Loosen your seat belt, it's gonna be a lot of bites. The eating won't stop until Jan. 2, when the gyms begin their annual guilt membership drives.

Bon appetit.