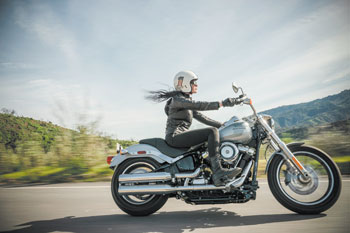 It is time to start getting your Christmas gifts together. If you need some good gift ideas for someone special, let me help.

The multipurpose tool

It is incredible how many times I've had to use my multipurpose tool. I've used it for everything from removing a nail from my tire to cutting a cable. A good motorcycle multitool should have a file or hacksaw in the event you have to cut something away, like a cable, file a piece of metal down or pull a nail out of your tire while on the road. Both Leatherman and Gerber make quality tools. I'd reccommend the Gerber Legend Multi-Plier 800 with Berry Compliant Sheath. The manufacturer's suggested retail price is $140. You can pick them up at most outdoor stores. One thing to remember is quality. There are a lot of cheaper brands out there, but there is nothing worse than breaking a tool when you need it most.

The throttle lock

The "Go Cruise" is one of the most innovated throttle locks on the market. It is a brilliant design and easy to install. Installation is less than one minute. It just clips onto your throttle, and you rotate it up against the brake lever, which allows you to ride hands-free. There is no MSRP for this clip, but you can get them on Amazon starting at $32.

Heated clothing

Heated motorcycle clothing is the best. Nothing makes riding in the cold more fun, safer and better than heated clothes. It also allows you to ride your motorcycle year round. A pair of heated gloves and a heated jacket keep the body regulated. When the body is cold, the blood protects our vital organs, which are your heart, brain and chest areas. The rest of the body becomes colder much quicker. This is why we are susceptible to frost bite in the hands, feet and other extremities. There are a variety of manufacturers and prices. You can find these things at your local motorcycle dealer or online.

Toys

I have a few model motorcycles. One year, my wife surprised me with an exact duplicate of my bike. I love it. It is a great compliment to her well-decorated living room. I often look at it and dream about my next adventure. I have toyed with taking it to my office, but I know that I would get caught playing with it. You may be able to find them at your local motorcycle store or in the toy section at your local department store. Prices vary on these from a few bucks to over $100, depending on the material and detail.

Jumper cables

A portable jump starter battery pack can save you if you or your friend's battery dies. I use to carry jumper cables for years, but hated that I needed another person's battery if I had a battery issue. For the last few years, I have been carrying a battery pack. There are a lot of manufactures with different features, and prices vary. Many of these packs are multipurpose. Mine has a flashlight, USB charging ports and jumper cables. My pack is not only good for motorcycles and cars, but I have used it to charge devices during power outages, and it is part of my hurricane-preparation packing list.

I hope all of you have a very merry Christmas and happy holiday season. I would like to thank each of you for your support and allowing me to share my stories and experiences over the years. I would also like to thank the Up & Coming Weekly for all the outstanding support to our motorcycle community.

If there is a topic that you would like to discuss you can contact me at motorcycle4fun@aol.com. RIDE SAFE!