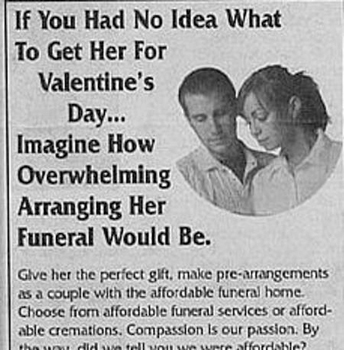 What is the most frightening day on the calendar for men? Spoiler alert: It is also the day of the year that is most likely to be disappointing for women. Give up? It's Valentine's Day. In theory, it is a day filled with hearts and flowers, candy, love, romance and possible whoopee. In reality, unless handled with kid gloves, it can be a day that will live in infamy, filled with recriminations and accusations of insensitivity. A day that can end in sleeping on the couch for the unwary male after the dreaded words, "If you don't know what you did, I am certainly not going to tell you."

Let us begin by examining the origins of this most Stephen King of holidays. Hop into Mr. Peabody's way back machine and travel back to third-century Rome. At that time, Claudius II was the Emperor of Rome. Claudius was having a difficult time getting guys to join the Roman army. Based upon nothing in particular, Claudius concluded men weren't signing up for the Legions because they were too attached to their families to go adventuring in the Army. Claudius' solution was to ban guys from marrying. If they had no family ties, then the men would happily join the army. Easy peasy. Problem solved.
Valentine was a Catholic priest who didn't think that banning marriage was a great idea. Valentine began performing marriage ceremonies in secret. This was well before people could run off to Dillon, South Carolina, to get hitched. Valentine was the only option to get married at the time. Demonstrating the adage that no good deed goes unpunished, word of the secret marriages got back to Claudius.

When Claudius found out what Valentine was doing, he hauled him off to jail. Unlike the Mayberry jail, Valentine was not free to go like Otis Campbell, so he stuck around for his punishment. Valentine became friends with the jailor's daughter while he was waiting to be executed. On the day he was to be beheaded, Feb. 14, 270 AD, Valentine left a goodbye note in his cell for the jailor's daughter and signed it "From your Valentine." From this rather dark origin comes our present Valentine's Day. Valentine was rewarded for his troubles by being canonized as a Saint. His skull can be admired in the Basilica of Santa Maria in Rome if you are so inclined. It is not coincidental that if a man messes up his Valentine's Day gift for his lady love, he may also find his head chopped off.

In the interest of avoiding romantic discord, disappointment and figurative beheading, the rest of today's column will explain to men what gifts not to consider for Valentine's Day. As you have noticed, ever since New Year's Day we have been bombarded by advertisements for Valentine's gifts. Do not always trust advertisements. Put some thought into your present. Undoubtably the worst Valentine's Day gift I have ever seen advertised is the ad that accompanies this column for pre-arranging her funeral. It is a triumph of attempting to turn a silk purse into a sow's ear that even our old friend Don Draper from "Mad Men" would admire. "If You Had No Idea What To Get Her For Valentine's Day ... Imagine How Overwhelming Arranging her Funeral Would Be." Despite what the ad copy says, pre-arranging as a couple her funeral arrangements is not a good gift idea.

Anything short of pre-arranging her funeral as a Valentine's Day gift has to be better on a scale of one to a zillion. At least if you don't call the funeral home, you will be better off than the moron in the ad who decided on the Deluxe Golden Slumber double casket for his lady love. However, there are certain other gifts that are ungood and should be avoided.

As a public service to men everywhere, the following Valentine's Day gifts will not get you where you want to go. Do not give her a one-way ticket to Wuhan, China. All household appliances such as vacuum cleaners, irons and lawn tools are verboten. Do not take her to a romantic dinner at Arby's. A certificate for a free oil change at Jiffy Lube is out of the question. Never give a box of frozen Gorton's fish sticks. Do not give her a broken flux capacitor with the thought she might enjoy trying to repair it.
A case of Mad Dog 20/20 wine will not be appreciated. No woman wants a year's supply of Johnson's Turtle Wax. Resist the temptation to take her for
a night on the town to see a revival of "Godfather 3." She does not want a set of new floor mats for your truck.
Beyond this set of guidelines on what not to give her, you are pretty much on your own. As our old friend Stephen King once almost said, "A lot of things happened on Valentine's Day, and not all of them were good."

Be afraid, be very afraid of Valentine's Day. Or to paraphrase William Butler Yeats who once nearly wrote, "She has spread her dreams under your feet: Tread softly because you tread upon her dreams."

Good luck.