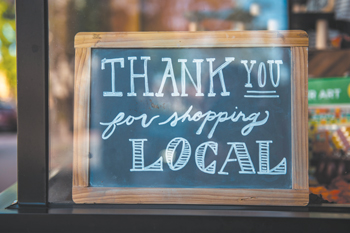 This week, Publisher Bill Bowman yields his space to Jenna Shackelford, editor of Up & Coming Weekly.
Over the past few weeks, the effects of the coronavirus and the panic surrounding it have slowly unfolded in our community. Between mad dashes to the store for enough toilet paper to stock up a small country, waiting in long lines at local big box stores, and slathering our hands in sanitizer, people have watched and listened as the news, social media and experts have told us that the numbers of presumptive and confirmed cases of COVID-19 are on the rise.
Unfortunately, in our efforts to prepare for the worst — and don't get me wrong, we should be prepared — our local businesses are paying the price. With a decrease in traffic, stores in the area whose doors are wide open to their customers are suddenly finding themselves in financial predicaments.
Cumberland County residents need to shop local now, or else when COVID-19 has come and gone, local businesses will have came and went, too.
With the spread of germs, though, how can consumers be smart about how they support local entrepreneurs?
By now, most people are aware that large gatherings are banned; but small gatherings with simple precautions, like thorough hand-washing, are allowed and are much lower risk. Bear in mind that owners of businesses don't want to get sick either, nor do they want anyone else who visited their establishments to fall ill, and are taking precautions to ensure that their workplace is santized. Many restaurants utilize delivery services, so support local restaurants by ordering carry-out. You could also support stores that sell local produce and make a meal at home to share for a night in.
Check your calendar. Do you have some birthdays, weddings or other occasions marked that you'll want to purchase gifts for? Now is a great time to do that. While outings are still safe, many small businesses have an online presence that you can order from and stay in. For those that don't, consider calling the business and making purchases by phone.
If you don't have anything you particularly need from your favorite local business now, but you might later, purchasing gift cards for a future use is also an effective way to support the local economy.
If you need to purchase items wholesale, putting in your orders now could provide a much-needed monetary boost.
Spring is a beautiful time of year to explore the outdoors. Throughout Fayetteville, there are a plethora of outside adventures. From events for all ages at the Cape Fear Botanical Garden to activities like kayaking trips with Lake Rim Park, you'll find events that everyone can enjoy. (Update: Since the publication of this article, many outside programs and activities have been postponed or cancelled, but visitors can attend the parks, which remain open, at their own discretion.)
The Greater Fayetteville Chamber is a wonderful resource with an extensive list of their members, complete with the addresses and phone numbers. Visit http://www.faybiz.com/ and click "member directory" under the "shop local" tab to explore all the great possibilities in our community. Who knows — you might find a new favorite hangout spot or resource you hadn't learned about yet.
Our community is resilient. Think back to all the storms — both literal and figurative — that we have collectively weathered. One of the best qualities of the people in Cumberland County is that, through thick and thin, we watch out for each other. We love our neighbors. We help in times of need. Now is no different, and it's time for us to invest in local entrepreneurs the way they have invested in the community. Thanks for reading Up & Coming Weekly.