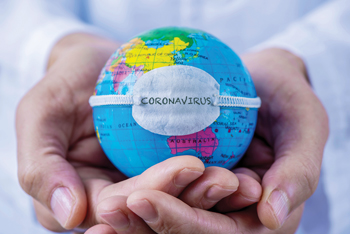 We began the month of March secure in our work and personal lives and routines. We ended it sheltering in our homes, apart from our families and friends, unsure of our own and our nation's futures. Many, if not most, of us, are reeling both from the speed of change and the unknown nature of what we face as individuals and as a country in a global economy.
In no particular order, here are several observations about our situation. Some are mine, and some have been triggered by lots of reading during my confinement. Each of us undoubtedly has our own thoughts about the pandemic and its implications.
We do not know yet and may not know for some time when the pandemic "curve" has spiked, and when we are on the downside of it. This will be different in different parts of our nation for months to come. There will likely be smaller, scattered outbreaks as we weather this storm.

The pandemic is an equal opportunity threat, neither Democratic nor Republican. Our response to it is startlingly partisan, though. Pollster Nate Silver noted last week that detected cases rose by 31% in states Trump won in 2016 and by 21% in states taken by Clinton. This means it is rising faster in the South and Midwest and slower in California; Washington, D.C.; and New York, outside New York City. We can all interpret these numbers however we choose. Still, many observers speculate that red states are following Trump's lead that the virus is not as threatening as others say while blue states are following social distancing advice of medical experts. The good partisan news is that Congress, both the House and the Senate, overwhelmingly passed a desperately needed economic stimulus package that will help people of all political stripes.
Human beings are herding creatures. Proof of this can be found in most any grocery store's shelves empty of toilet paper, disinfectants, canned soups and certain other consumer products. If our neighbors are stocking up, we feel compelled to do the same.

There is a dark joke making the rounds that we are likely to see a baby boom in the coming months — as well as a spike in divorces and more than a few "justifiable homicides." It is a way of saying that enforced and sudden togetherness, even with people we love, can be trying. Working parents whose children have been in day care or school are finding hands-on, 24/7 parenting challenging. Couples who enjoy each other's company are getting too much of a good thing. Some of the solitary walks we have been taking may not be just for exercise.

This is going to go on for a while. Even after the pandemic subsides and our economy begins to reopen, flareups will continue as will some degree of social distancing. Experts say we should brace ourselves for a year or longer.

Americans are a clever bunch. All across our country during this bizarre and frightening time, we are laughing out loud as funny after funny scrolls across our screens.

Pictures of people who have been cutting, coloring or otherwise doing their own hair without much success. Clips from late-night TV comedians. Photos of rolls of toilet paper encased in birthday and holiday wrap. I crank up the computer every morning with a smile.

Not much is certain right now, but we can have faith that this will end at some point. Researchers will develop a vaccine and the world will move forward again, however changed we all may be.