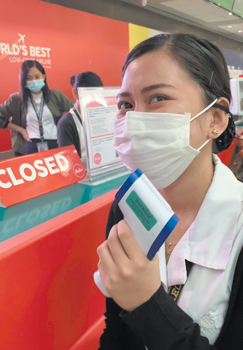 I work at maintaining a positive outlook on life, no matter the circumstances around me. In fact, I'm on record for years as saying the only thing I want from negative people is ... away.

This is one time I'm happy to say, "I'm negative!"

I returned five days ago from spending 10 days on business in the Philippines. There were some travel concerns circulating when I left the U.S.

March 1. By the time I was ready to return, things on the global scale had escalated dramatically.

Though the Philippines is a hotter climate, which is less friendly to the COVID-19 virus, and there were relatively few cases there, the concern was growing throughout my in-country travels. Frequently before boarding an inter-island flight, we were temp scanned before being allowed to board. Sometimes even before being allowed to enter the terminal.

The day before returning home, I came down with a nasty cold. I hit it hard with every kind of concoction and remedy I could get my hands on, but I still felt pretty rough — even a bit feverish — as I prepared to fly home.

I was concerned that if they were temp scanning at the Manila airport, I could find myself writing a blog — Marooned in Manila — for the next 14 days. That wouldn't have been so bad since I have people there, and the Shangri-La Hotel would be a nice place to hole up (if that would have been allowed). And I had an endless supply of Filipino mangoes — the best anywhere.

But I did not want to make it to Tokyo and get hung up there. No offense to my many Japanese friends, but to be in a country with no contacts and a total language barrier was not at all attractive.

Fortunately, they weren't temp scanning in either Manila or Tokyo, and after 20+ hours of traveling, I was back on North Carolina soil. It did help a lot that for the two longest legs of my trip, I had my own private cubicle in the front part of the plane. I've never loved Delta One more than on those flights.

I found out that literally within hours of my departure from Manila, the president of the Philippines announced a closure of both air and sea travel. I sort of felt like I was on "the last helicopter out of Vietnam." Not really, but "Whew!"

The day after I returned home, I went to see my doctor to get tested for both the flu and the COVID-19/Coronavirus. My doc and his assistant met me in the parking lot, masked and gowned, to collect the test samples, and I went home to hunker down.

I've spent the last five days huddled in our downtown condo, rarely stepping outside, enjoying the sounds of city life four stories below me, which is now much quieter than five days ago.

I'm web-connected to the world, so business goes on without much interruption. I sincerely feel for all the local shop owners around me and throughout the world. Many will not survive this total disruption of their business. That's sad. Very sad. I do have to say, with nothing but deep gratitude, it's a great day to be a network marketer.

The results of my flu test came back quickly — negative. I figured that would be the case. I've had both colds and flu before and knew I didn't feel fluish. The doc felt that my symptoms weren't consistent with what seemed to be the emerging pattern with the virus, but you don't know until you know for sure.

So, to get the call today and hear the words, "You're negative!" was indeed a relief.

I've never been so glad to declare that I was negative. From now on, I affirm that Rebekah and I are facing the unknown challenges of the days ahead with a positive outlook. We embrace the principle of adaptability. We're glad to already have a home-based business helping people learn about a product that everyone needs and couldn't be more timely, especially considering the current demand for increased immunity protection.

I have had an eye-opening, question-generating experience with a prescription drug purchase through all of this. I'll save that for another post. Watch for it. It's somewhat shocking.