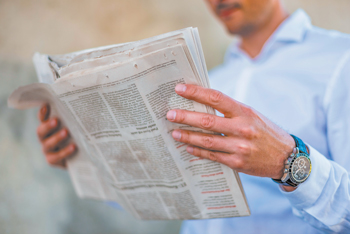 This letter was recently sent by Publisher Bill Bowman to Representative Richard Hudson in support of journalism and local community papers.

Dear Congressman Hudson,

Nineteen Democratic senators sent a letter to the Senate leadership and the leadership of the Committee on Appropriations in support of local journalism and regarding the inclusion of funding earmarked to support local journalism and media in general. To my surprise, the letter was signed only by Democratic senators calling for support and with no support from Republicans. Were you aware of this? Your assistance in this matter, Congressman Hudson, would greatly help build momentum for including the preservation of the Fourth Estate in the next round of targeted stimulus funding. For many community newspapers, like myself, it could mean our very survival. Nearly everything in the letter pertains to our 25-year-old community newspaper, Up & Coming Weekly, here in Fayetteville, Fort Bragg and Cumberland County. However, I write to you on behalf of the nearly 60 weekly community newspapers in North Carolina and the 1,500+ across America.

Thank you for the great job you are doing for District 8. Our community could not ask for better representation. Locally, District 45 Rep. John Szoka is serving on the North Carolina House Select Committee on COVID-19 and Economic Support Group. That committee is also working on similar draft legislation that would also assist small North Carolina businesses like mine, and it is needed to help us survive this pandemic. The purpose of this letter is to make you aware of the dire situation that exists here in Fayetteville and Cumberland County as it pertains to local news media. Fayetteville and Cumberland County are critically close to becoming a media and news desert. This is a very serious situation.

As you probably already know, Fayetteville does not have a local TV station. And now, with Gannett-Gatehouse Media slowly dismantling our only daily newspaper, The Fayetteville Observer, we are treacherously close to creating a District 8 community of 310,000 residents without a local media advocate. This would be devastating to local businesses and would sharply hinder future economic growth and development prospects, not to mention the loss of First Amendment rights and insights into the dealings (or misdealings) of our local government. Cumberland County and Fort Bragg, as a media desert, would be the worst thing that could happen to our community at this time. Or anytime.

Solutions are not simple, yet they can be mitigated. Like many small weekly community newspapers, Up & Coming Weekly (www.upandcomingweekly.com) is on the ropes, struggling to survive unless we can get financial support and relief very soon. Without financial support, Cumberland County risks losing a 25-year-old trusted conduit for local news, information and the need-to-know and do in response to the COVID-19 pandemic. As a free news publication, we are the key media and information source that reaches all the municipalities in Cumberland County and Fort Bragg, providing truthful, honest and accurate information to all citizens — including the poor and underserved. Local media, specifically newspapers, are in a state of crisis, which is being exacerbated by the COVID-19 situation. For over a decade, companies like Alden Media Group and Gannett-Gatehouse Media have been at the vanguard, destroying local newspapers by closing down offices, selling off assets and laying off reporters and journalists. Now, this public health crisis has made the problem worse. We have lost over 50% of our advertising revenue, as we depended on local restaurants, entertainment venues, nonprofit fundraising events and dozens of other nonessential businesses that have closed as the nation attempts to "flatten the curve."

Currently, I have retained all my employees by reducing expenses and cutting everyone's salary by 20%. I have applied for the PPP funding, but I'm afraid that won't be enough to survive. This weekend, I received the update from PNC Bank on the status of our PPP loan. I am incredibly disappointed, but not surprised, at the news that the PPP program was out of money — especially since we were one of the very first applications processed by PNC. I did not waste a moment in doing what was necessary to keep my newspaper open and our employees on the job. I want you to know, Congressman, how initially skeptical I was of the process when I found out that even before our local Fayetteville financial institutions (PNC Bank, Bragg Mutual Federal Credit Union and First Bank) were set up and in possession of the resources they needed to process loan applications, Fox News reported that Bank of America had already processed $3.5 billion in loans. Now, while thousands of struggling small businesses receive their "Sorry, out of PPP money" letter, companies like Ruth's Chris Steak House, which recorded $48 million in profits last year, netted $20 million of PPP funds intended to assist small business. And, American Airlines received a whopping $5.8 billion. Two incredible and disgusting displays of governmental program manipulation and abuse.

The Up & Coming Weekly newspaper plays an essential and indispensable role in this county. The only reason we exist today is that we have been the county's most reliable, honest, trustworthy and unbiased source of local news, views, cultural arts coverage and other relevant information. We have been that relentless local government watchdog and business development advocate, as well as the city and county's biggest cheerleader and quality-of-life advocate. Our newspaper plays a critical role in covering a wide range of issues that impact Fayetteville, Fort Bragg and Cumberland County. Each week, tens of thousands of local readers depend on us for community news, city and county updates, education news, health and wellness advice and information concerning issues specific to their town or neighborhood.

Social media outlets are fueling fake news with unverified sources and now multiple consumer scams, making it even more difficult for people to find trustworthy and reliable sources of news and information. People in Cumberland County need to have access to trusted local news and reliable life-saving information. Just as important, people need a positive outlook, enjoyment, fun and entertainment in their lives to ease the tensions brought on by the stress, confinement and uncertainty of this terrible crisis. This is the comfort we bring to the community. This is what community newspapers do, and we don't want to disappear.

Again, I am not just speaking on my behalf, but for all the community newspapers throughout North Carolina. When this bill surfaces in congress, I hope you will look upon it favorably to support local media and the preservation of journalism and the Fourth Estate. Such a consideration should be tailored to benefit local community media and local newspapers that have made long-term commitments to providing high-quality local news services. It should not be extended to mega newspaper conglomerates like Alden Media Group or large regional dailies like McClatchy or Gannett-Gatehouse Media. These companies are the primary source of the problem and not part of the solution, and they certainly have little respect for journalism and unbiased reporting.

In closing, Congressman Hudson, please help community newspapers survive to serve local citizens, protect First Amendment rights and preserve journalism and the Fourth Estate. First and foremost, we must prevent Fayetteville and Cumberland County from becoming a news media desert. That would be disastrous for the future of our community.

We need your advice and leadership in this matter. Please let me know if you need more information or have any questions.