Bill,
As I read your (May 13) editorial I keep saying AMEN! You hit the nail on the head. At my age (76) it is difficult to realize that our freedoms are slowly — maybe rapidly — being taken away from us. Your opinion piece should be read by everyone. Put your piece together with the article by Karl Merritt and we have all we need to know about the path this country is taking. AMEN! AMEN! to both of you.

Thank you for your work at Up & Coming Weekly.

—Myra Parker
(Mrs. Weeks Parker)

***********************************************************************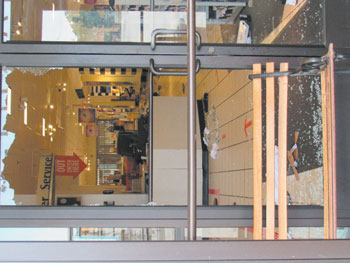 I was stuck in traffic on McPherson Church Road at 5 p.m. Saturday. When I finally reached the intersection, I saw that the police were protecting a line of people holding signs — that was a peaceful
assembly.

Three hours later I heard on the radio about smoke and a man on fire at the Market House — that was not peaceful. Six hours later, I learned of looting and broken glass at Walmart on Skibo and
JC Penney at the Mall — that is a mob.

What happened, dear Fayettevillians? We are not Baltimore, we are not Los Angeles, we are not Minneapolis. I have lived half my life here and have embraced the city's 230+ year history. We are black and white and brown and yellow. We are biracial, interracial, multi-ethnic. We are not Bosnia or Serbia or Croatia, where neighbors fought neighbors. We are not an underdeveloped country, although the COVID crisis almost reduced our day-to-day economy as such with toilet paper lines instead of bread lines. We are the center of the military universe and about to celebrate the 2020 graduation of our high school and college students. Is anarchy their future instead of law and order and respect for oneself and others?

My heart broke when I visited the Market House Sunday. Priceless Lafayette exhibits on the second floor were taken and now stolen from the children of this county. To see boarded up windows and doors on both sides of Hay Street was awful. These are small-business owners. A hurricane did not cause this; reckless action did.

My thoughts Sunday at midnight were where was the city's leadership, telling the crowds: "OK, time to go home. Do not destroy your town; do not destroy our town."

Why did the police stand down, be it at Walmart or the Market House? Was it to prevent confrontation, prevent escalation of a planned tense situation? A witness told me Sunday that cars were parked zigzag on Hay Street while their drivers were ransacking the area; that sounds like a calculated maneuver. Other Skibo Road witnesses told me of the 2 a.m. swarm of cars and people running in and out of Walmart as well as J.C. Penney's with merchandise, egged on by others on their cell phones. With all the store cameras and the bragging Facebook posts, will the police be serving warrants soon?

Perhaps the beloved educator, Dr. E.E. Smith, can return and calm the waters. He lived in a time when the racial wounds were more fresh (1852-1933). Yet, he worked well with others to achieve his education and ministry, build up Fayetteville State University, start the first black-owned newspaper in North Carolina and represent the U.S.. overseas. Every Fayetteville child should know about him and Lafayette; mob rule should not be their model.
We cannot be going backward.

— Linda McAlister
Community Notes
Update: Republican headquarters across the state are temporarily closed. The June 13 event will still take place.

• 2810 Bragg Blvd. will be the 2020 Headquarters for the Cumberland County Republican Party. Educational material, voter information and precinct maps will be on display. Campaign literature, and candidate signs will be available soon. The current shelter-in- place lockdown has delayed distribution of signs.

County Chairman Jackie Taylor and her Board of Officers will be hosting an outdoor Grand Opening with Ribbon-Cutting and special guests on June 13 in the parking lot. There will be a guest speaker, Mark Robinson, candidate for Lt. Governor. More details to be announced. In the meantime, doors will be open Monday through Saturday 12 p.m. to 4 p.m. as of June 1. For more information, contact jackieleetaylor41@gmail.com or call the Headquarters at 910-339-2011.

• St. Ann RC Church in Fayetteville is hosting a Blood Drive, Saturday, June 13, from 9 a.m.-noon at 357 N. Cool Spring St. The Cape Fear Valley Blood Donor Center is providing two Blood Mobiles to facilitate the collection of blood.
The Blood Mobiles can accommodate five donors every fifteen minutes. Average time it takes to donate is approximately
30 minutes.

There is an urgent need for O-negative blood.