I doubt that those calling for the eradication of Fayetteville's historic Market House know much about its history.

In 2020, Fayetteville's biggest threat is perceived to be a 188-year-old structure steeped in North Carolina history and tradition, which remains mostly ignored — the Fayetteville Market House. Recently, there have been calls for it to be torn down because it offends the sensitivities of a particular faction of residents. I know what you may be thinking. Downtown establishments in the '60s, '70s and '80s offended the sensibilities of many local residents, and some were finally torn down. This is true. But in the years that followed, the people who were responsible for demolishing them had laser-focused plans for Fayetteville and Cumberland County's future and the leadership skills to see it through. They knew exactly what they wanted Fayetteville's future to be for all its citizens.
Local city and county government leadership had vision, tenacity and plenty of practical business experience. They had a well-thought-out and workable plan to improve and enhance the quality of life for all citizens — without regard to race, color or religious affiliation. Former mayors J. L. Dawkins and Bill Hurley, County Commissioner Thomas Bacote, city manager John Smith, city attorney Bob Cogswell, Democrat Sen. Tony Rand, Danny Fore of the Fayetteville Cumberland County Economic Development Corporation and David Jamieson of the Chamber of Commerce are just a few of the respected names that come to mind when I think of prominent Fayetteville and Cumberland County leaders who contributed to our valuable, however brief, renaissance.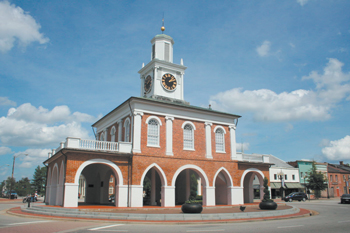 This was an exciting time for our community. When downtown was cleaned up, it marked a rebirth of our community. People were excited and willing to engage. Cumberland County and downtown Fayetteville became vibrant and alive. Commerce returned to downtown, a new city hall and police station were built on Hay Street, the Prince Charles Hotel was salvaged, the Airborne & Special Operations Museum and Veterans Park came to be, Fayetteville Little Theater became Cape Fear Regional Theatre, the Crown Coliseum Complex was built, and the third Thursday Chamber Coffee Club was standing room only in anticipation of hearing updates on new local projects and programs. Everyone benefited from the community's success, and the Market House solidified itself as the city's symbolic icon of pride, perseverance and progress. And, as history has proven, the Market House has never been depicted as "the slave market house" or a place of human degradation.
I have lived here over 50 years and never once felt Fayetteville was a racially hostile community. And, saying it is does not make it so. Nor does destroying the Market House prove the point.
My closing message relates to 2020 as an election year. The things we are now experiencing — from protests and riots to toppling statutes to the Black Lives Matter movement — are staged political distractions. Dissension means votes. Across this country, politicians need the black vote desperately. Without it, they have no political careers or future. These leaders stoke racially charged issues then stand down in the comfort of affluent neighborhoods while racial conflict and disharmony consume and destroy the communities in major towns and cities. Blacks and other minorities should never be used as pawns for anyone's personal gain. Politicians use race as their weapon of choice. In politics, the color of one's skin makes no difference. In politics, the rich get richer. In politics, power is both the objective and an intoxicating drug. All humanity needs to take a closer look at the people and the purpose of things to which we are asked to support and pay allegiance.
The Market House is a historic symbol of pride that, as time passes, measures how far we have progressed in 188 plus years. We do not want to go backward.
Thank you for reading
Up & Coming Weekly
.