Fayetteville, North Carolina, a once-proud, up and coming, developing urban community, is beginning to resemble a war-torn country. Dirty, trash-littered streets, boarded up storefronts, graffiti-laden walls, shanty tents and makeshift nomad-occupied encampments surround the Market House, a historic building and monument that means so many things to so many people.

Hopefully, by the time you read this editorial, the mayor and city council will have put their collective intelligence, authority and sensibilities to good use to clean up the blight around the Market House. It is creating a blemish on our community and an ugly public safety hazard on city-owned property.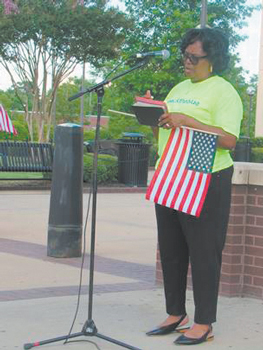 However, as in life, the direst of situations often bring out the best in humanity. Last Thursday evening, hundreds of Fayetteville and Cumberland County residents rallied together in front of the Cumberland County Law Enforcement Center downtown to "Back the Blue" in a show of unity and appreciation for the rank-and-file Fayetteville law enforcement officers serving on the Fayetteville Police Force. The Citizen Cares Project was an impromptu citywide tour de force response to the negative narratives being touted about law enforcement and being amplified in Fayetteville and all across the nation. The CCP event was 100% Americana at its best. Hundreds of participants waving flags, cheering, laughing, praying, singing patriot songs and pledging allegiance to our flag demonstrated how much Fayetteville citizens appreciate and support their local police officers and how much they love their community and their country.

The CCP event was amazing! The outpouring of support was awe-inspiring. In a matter of weeks, a handful of
volunteers rallied the Fayetteville community to raise more than $35,000 to provide gift packages to the 420 police officers who have dedicated their lives to the protection and service of Fayetteville citizens. Each gift pack was a token of appreciation that contained a $60 restaurant dine-out card for them and their family, a personal handwritten note of gratitude and encouragement from a local resident, a prayer for safety and protection, and an assortment of items intended to make their jobs and lives more enjoyable.

The CCP led a peaceful march to personally deliver these gifts to the Fayetteville Police Department amid Black Lives Matters protesters.
Police officers and members of the Full Throttle/Full Mag Motorcycle Club, known for their community service and support of law enforcement and first responders, escorted the marchers and the vehicles transporting the gift packets to their final destination at the Fayetteville Police headquarters on Hay Street. Here, the packages were delivered to the Fayetteville Police Foundation for distribution.

CCP participants remained calm, focused and dignified in the face of the protesters' shouts and chants.

In a recent local survey, crime and public safety were two of the biggest concerns of Fayetteville residents. The events taking place in our city since May 30 lend credence to those fears. Defund police? Really? The whole world saw how that model worked out in the CHOP zone in Seattle, Washington.

Thank you to all the men and women of Fayetteville's law enforcement community and to all those who organized and participated in the CCP. This action reflects the spirit of boundless determination and renewed enthusiasm that assures us Fayetteville will remain a city known for its hospitality, diversity, tolerance, dignity, history and heroes. The CCP rally participants represented the entire scope of this community: men, women, children and grandparents; Black white, Hispanic and Asian residents; all religions; and active duty and retired military.

A special thank you to our local Fayetteville police officers and all the volunteers and participants that made the CCP a success.

Thanks for reading Up & Coming Weekly.