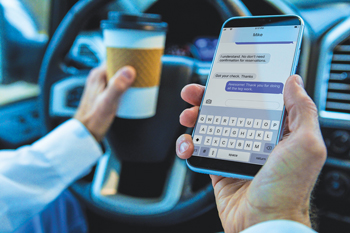 We have all seen the distracted drivers — missing a light change, drifting out of their lane, slamming into the back of vehicles slowing or stopped for traffic. They are usually deep in conversation or are looking down texting on their phone.

North Carolina drivers might be more aware of the dangers of texting and driving. Still, studies show that they — and motorists throughout the country — are not only getting distracted in their driving by cellphone calls and texting, but also gaming and social media while they drive.
In one study by Students Against Destructive Decisions and Liberty Mutual Insurance, people of high school age were asked to rank distracting activities by how dangerous they were. Only 6% chose posting to or looking at social media as the most dangerous. A quarter said that writing a text message was the most dangerous, and 29% named driving under the influence.

The National Safety Council surveyed 2,400 drivers of all ages and found that nearly three-quarters would use Facebook while driving. Nearly one-third said that they would use Instagram and more than one-third said that they would use YouTube and Twitter while behind the wheel. The National Highway Traffic Safety Administration says that daily, more than 1,000 people are injured, and eight are killed as a result of distracted driving. The National Safety Council says that around a quarter of all crashes happen due to phone-related distractions. However, because the numbers often depend on self-reporting, many experts believe estimates are too low. When someone causes a crash and injuries or death, however, law enforcement will likely check cell phones and vehicle data recorders. Attorneys also regularly subpoena cellphone records in auto injury and death claims and seek downloads from vehicle crash data.

So, what do we do to protect ourselves? Put your phones away when you are driving — even if you are not one of those folks who text and drive or otherwise. Phones are a distraction from safe driving, period. There is nothing that cannot wait until you get to your destination. Next, protect yourself by having adequate insurance coverage. If you are significantly harmed by a distracted driver who carries minimum limits ($30,000 in liability coverage), you need adequate underinsured coverage on your own policy to protect yourself. I recommend at least $100,000 in uninsured/underinsured protection. The reality is that we have no control over the decisions and actions of other drivers. We can control our own decisions and actions to drive safely and protect ourselves with adequate insurance coverage.